Plan A: Put Plan B Into Action
Louis R. Carlozo, CCM Magazine
Tuesday, December 28, 2004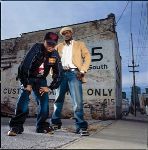 Ask Stacy "Coffee" Jones, one half of the dynamic hip-hop duo GRITS, what inspired him and partner Teron "Bonafide" Carter to make the ambitious two-album set "Dichotomy A" and "Dichotomy B," and he gives a somewhat shocking answer:  "Gotee approached us midway through the recording with the idea," he says. "It was our last record with Gotee, and we wanted to go out with a bang."
Wait a sec:  Last record with Gotee, the label at which the group's seen increasing success for more than 10 years? "Our contract is up, and we're trying to work out the details to come back," Coffee reveals. "But for right now, we're free agents."
While the future depends on many variables — a few of which Coffee addresses in a free-ranging interview — for now, the present is equally promising and precarious. There's no denying that the "Dichotomy" records represent artistic daring and have yielded some mighty fine hip-hop in the process.
The twin albums mark a bracing step forward for a duo that is, without a doubt, Christian music's most successful mainstream rap group. With each of its two previous releases ("The Art of Translation," 2002, and "Grammatical Revolution," 1999), GRITS has managed to make increasingly significant inroads into the general market. These triumphs have spanned from the music charts ("Translation" peaked at No. 11 on CMJ's hip-hop listing.) to the silver screen and television. ("Here We Go" was featured in the Jack Nicholson/Diane Keaton film "Something's Gotta Give" and became a music bed staple for MTV, while the video landed spins on BET.)
Still, GRITS has dealt with the pressure any act with a previously successful album knows: to deliver a sequel that lives up to, if not surpasses, its predecessor. As much as some folks might've wanted or expected something similar to "Translation" — a "Part B," if you will — Coffee says GRITS was determined to stick to its guns and try something new.
"I felt like a lot more stress was on us with 'Dichotomy A,'" Coffee says, "And with people caught up with "The Art of Translation," a lot were expecting us to make another "Art of Translation," and we went in with the vibe that we're not going to repeat that. GRITS is constantly changing and constantly evolving, just like our faith in Christ — every day is different. It's about us, what we're going through, what we've been through and what we've got to overcome. Plus, we've always been pushing the envelope, going against the grain."
At press time, GRITS was still putting the finishing touches on the new disc — recorded, as was "A," with the production help of dc talk band alum Otto Price. "People ask, 'Why 'Dichotomy A' and 'B'? Technically, it's all the same — the recording, the photos, the packaging. Style-wise it's connected, though it's two parts — 26 songs, including interludes," Coffee says.
Yet, there are differences with the new disc he wants to highlight. "Sonically, it's more 'up' than 'A.' Lyrically, the approach is more aggressive. It's weird; I think there are more hooks on 'B' and more aggressive songs that the kids are really going to be excited about when we perform them live."
Do expectations to follow up "A" or even "Translation," which sold more than 130,000 copies, ever weigh on GRITS? "We've got nothing to prove to nobody," Coffee says. "At the end of the day, if [Bonafide] and I are standing there with our thumbs up, then we're fine with it. And we know that our fans — the people who have been rolling with us from the beginning — they're going to be fine with it."
Have something to say about this article? Leave your comment via Facebook below!
advertise with us
Example: "Gen 1:1" "John 3" "Moses" "trust"
Advanced Search
Listen to Your Favorite Pastors