Plan A: Put Plan B Into Action
Louis R. Carlozo, CCM Magazine
Tuesday, December 28, 2004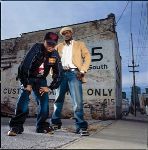 This brings up whether GRITS would want to take the bigger risk of stepping completely outside the Christian music scene for an all-out push in the mainstream. "It's funny you even mention that," Coffee says. "It's been a big discussion for us in the last couple days. There are artists on that side — Kanye West and Mase — who are doing it on a much bigger level, with money and exposure." (West, for example, has had a huge mainstream hit with his song "Jesus Walks.")
The way Coffee sees it, growing segments of the Christian music industry are stepping up and supporting artists making an impact outside the church. Meanwhile, he has questions for those who prefer a more insular approach. "Are lives really being affected, or is it just the same old people listening to the radio and going to the concerts?" he wonders. He then contrasts this to the incredible response by mainstream artists in late 2001: "When the world can come together — 9/11, for example — what happens? The mainstream artists come together, and all the proceeds go to the families of the [World Trade Center] victims, the firemen. And what do we do? The world is really showing us how to minister, and that's crazy to me. We talked [in Nashville] about rallying it up, but we didn't have the power behind us to do it — it's just the politics behind it."
All of this brings Coffee back to the Gotee situation, about which he's cautiously optimistic. "We're basically realizing that if we're going to keep rolling with Gotee, it's going to take a mainstream partner to take us where we want to go," he says. "They've got the heart to do it, but it's an investment — and you've got to be willing to make that investment."
 
That said, it's worth noting that Gotee invested significant cash, muscle and sweat into making "Translation" a record that would have an impact well beyond the Christian market. Coffee also goes out of his way to affirm that the relationship between GRITS and the label remains amicable.
Still, he makes no apologies for his ambitions. "Let's do business on a level where it's an honor to God," he says. "You read about people like Abraham and Solomon in the Bible, and they were 'loaded'; they knew how to survive, live off the land and do it well. And I feel like on the Christian side, we're told, 'It's OK to be broke because you're doing it for God' — when the reality is that you're broke, and you and your family are just getting by."
Asked what it will take to kick the act's career into the next gear, he frames his answer in terms of the fans: "Keeping them in mind and heart needs to be at the center of everything GRITS does." This, he notes, includes knowing how to leave the people wanting more. "For us, our fans are our fans," he says. "We just wanted to do [the "Dichotomy" records] for the fans, to let them know they're appreciated. We ended up with so much material, we put it into two albums. "Dichotomy" is just the name; if you listen to them they are two very different albums. Plus, a lot of artists are putting 17, 18 songs on a record these days. I don't know about you, but when I hear that many songs, I'm overwhelmed."
Coffee also stresses that no matter what changes in the world of GRITS, honest faith will always remain constant. "Our heart is that we know how powerful music is, that a song can change a person's life," he says. "We want to sow seeds, not just in the mainstream, but with believers. Because at the end of the day, problems — pride, arrogance, whatever it is — stem from something deeper than just committing the sin or whether you're saved or not. I talk to castaway believers, and they see that we as Christians are all talk. And that gives them ammo: 'If that's the way they are, I want nothing to do with it.'
"So when I start talking to people, I start by telling them how I've messed up. We talk about divorces, how we're products of divorce. A lot of people won't do that, and we were told at the beginning, 'Be on guard; watch yourself.' But God has protected us and sustained us over a decade. And if we can't see God in that, then we're crazy."
As if to sum up what these lessons have taught him, Coffee says, "I believe we've been faithful. We've slipped up a bunch of times. But God is faithful. We know why we're here, and we're not stopping."

© 2004 CCM Magazine.  All rights reserved.  Used with permission.  Click here to subscribe.

Have something to say about this article? Leave your comment via Facebook below!
advertise with us
Example: "Gen 1:1" "John 3" "Moses" "trust"
Advanced Search
Listen to Your Favorite Pastors