P.O.D.: Southtown Unbound
David Jenison, CCM Magazine
Tuesday, March 21, 2006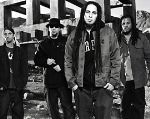 P.O.D. seems open to revisiting previously traveled paths. At least, that's how it appears with the promotion behind the band's new album "Testify" (Atlantic/Word).
For example, "Testify" mirrors 1999's "Fundamental Elements of Southtown" in that both albums were preceded by a limited edition "Warriors" EP and a major tour with Staind. Likewise, P.O.D. recently returned for another New Year's Eve performance in Times Square, something it previously did right after the Sept. 11 tragedies. And once again, the gatekeepers are responding in spades.
Coinciding with "Testify"'s late January release, P.O.D. performed an unprecedented five songs on MTV's "Total Request Live" and made the rounds on other high profile outlets such as "The Tonight Show with Jay Leno," "Last Call with Carson Daly" and DIRECTV's "CD USA." And in addition to securing CCM Magazine's cover story – again – this month, "Testify" landed P.O.D. on the front of Metal Edge, Risen, HM and Drum!, among others.
Once more, P.O.D.'s fans have responded in kind – "Testify" debuted at No. 9 on The Billboard 200 album sales chart and at No. 1 on iTunes' Alternative album download chart in late January. At press time, the album's lead single "Goodbye for Now" had entered the Top 20 of America's Rock radio airplay charts and the Top 25 of Alternative radio according to Radio & Records. The video for the song, meanwhile, had climbed to No. 3 on MTV's "TRL."
Familiar territory? Absolutely. And P.O.D. has historically demonstrated its growth with each new opportunity. But there is one path the band is continually forced to retread. After three indie albums and four major label releases with Atlantic Records, P.O.D. still faces the same scrutiny from both sides of the spiritual fence.
"It's like half the people say we're not Christian enough, and the others say we're too preachy," admits P.O.D. vocalist Sonny Sandoval. "Can't we just be P.O.D. making music, and if you like it, you like it, and if you don't, there are other bands out there for you?"
Despite what's said, Sandoval is not complaining. He's just answering another predictable question about his faith when he'd rather be talking about his new album. The fact is the band's success makes it an easy target. Even though 2003's "Payable on Death" album opened with the faith-filled anthem "Wildfire," the other songs often addressed less spiritual matters. Does this mean the band went multi-platinum and cut back its faith-related content?
"Payable on Death" sold more than a million copies worldwide but didn't come close to matching the massive success of its forerunner "Satellite," which contained more faith-related content and sold more than three million copies in the United States alone. So did that motivate the band to include more spiritual content on its latest, "Testify"? The point is, no matter what the band says or does, there's always a way to spin the facts to criticize it, and so the band finds itself with a new album and the same old set of questions.
"Even now people say, 'Are you guys still a Christian rock band?'" laughs Sandoval. "People need to get more real than that – come up with a better question."
When Sandoval mentions that question's monotony, he's not talking about sharing his faith but, rather, the way in which his faith might be used to influence record sales. "I don't ever want anyone to use my faith to sell records," he continues. "It's not the people. I love all the people who have supported us in the Christian world, and that gratefulness will never change. It's our wish that we encourage other believers, and it's our wish that people might come to know what we know because it's changed our lives. Our faith is real, but I don't want to go up there and convince you what a great Christian I am so you go buy my record."
Have something to say about this article? Leave your comment via Facebook below!
advertise with us
Example: "Gen 1:1" "John 3" "Moses" "trust"
Advanced Search
Listen to Your Favorite Pastors