P.O.D.: Southtown Unbound
David Jenison, CCM Magazine
Tuesday, March 21, 2006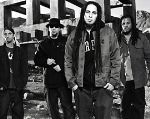 "But I have no complaints," reflects drummer Noah "Wuv" Bernardo. "Everyone wants to label us, and our band went through a transition where we didn't want to be labeled. But now we're at the point where we don't care. Call us what you like. If you like the music, cool, and if you like the message, straight up – that's dope!"
That said, "Testify" does feature more faith-evident content than recent releases, and, while there are challenges to covering spiritual themes, Wuv also feels it's natural. He continues, "You don't want to say things over and over again until it's flat out cheesy, and you're not taken seriously anymore. But faith in God is repetitive. It is something you have to do every day in your life. It is something that, if you have it, you're going to take it with you until you die. So for us, writing those songs about faith and struggles will never get [old] because it's part of the daily struggle we're always going to have. It's not something that you can do once and then forget about it. Having faith in God is something that you work on every day."
While P.O.D.'s music has long embraced such pertinent themes, for many fans it's the integrity behind the lyrics and the band's artistic fervor that sets P.O.D. apart. Just ask Pillar, the band CCM readers recently voted their "Favorite Hard Music Artist."
"There may never be another band that comes along that has such an epic passion in their music," says Pillar's lead singer Rob Beckley. "P.O.D. is easily one of the biggest influences on musicians in this industry and one of the most looked up to. They have encouraged me to live strong and with no fear in a world that is somewhat intimidating. P.O.D. is for real – great musicians, great passion and great presence. They may never know the impact they have had not only on fans but on the industry – both general market and Christian!"
In the end, it all comes back to who the artists are as people. And the members of P.O.D. choose to live out their faith as they always have. Consider their recent visit with wounded Iraq War vets at a military hospital outside the nation's capital. The USO contacted the band knowing they were going to be in Baltimore, and they quickly set aside the time.
"It was deep," says Sandoval, speaking with a sense of hurt in his voice. "I'm not good with hospitals anyway, but, once we walked in, they took us straight to the head trauma units. I almost couldn't do it, man. The first guy had half his head gone. His wife is sitting there next to him, and he's got pictures up of his kids and how he used to look. Then there was one really young kid who couldn't communicate or even control his own body. His mother was there, and she had a sweater with his picture and scripture verses on it. Right before he went into the service, he got a tattoo on his chest that read 'The Lord Is My Shepherd.' As soon as his mother started to talk about God, he started to shake and get upset. He's got the 'Lord Is My Shepherd' across his chest, yet he's sitting there not knowing if he's going to make it. My heart was just dropping."
Ultimately, the band members expressed their gratitude to all the soldiers and found themselves encouraged as well. The singer continues, "Most of the people we saw were believers. Everyone had their scripture shirts on and Bible verses posted in the room. If anything, I walked out more encouraged because here are these kids whose lives will never be the same, yet they still push on in their faith."
"Goodbye for Now," the lead single from "Testify," was written before the military hospital experience yet addresses similar situations. This mid-tempo rocker offers courage to anyone who feels downtrodden or lost.
Have something to say about this article? Leave your comment via Facebook below!
advertise with us
Example: "Gen 1:1" "John 3" "Moses" "trust"
Advanced Search
Listen to Your Favorite Pastors