P.O.D.: Southtown Unbound
David Jenison, CCM Magazine
Tuesday, March 21, 2006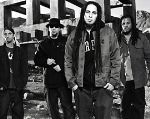 Sandoval explains, "'Goodbye for Now' is just a vibe track, one of those hope songs that people can relate to a little bit. It comes from struggling and feeling down and out in whatever walk of life you are in and hoping that tomorrow has a lot more promise. But so many people have taken different directions from it. For example, when I played it for my sisters, they took it from the angle of our mother passing away."
The new album also features guest vocals from Hasidic reggae star Matisyahu, whose own hit song "King Without a Crown" was poised to crack alternative rock radio's Top 10 at press time. This reggae-rock artist, who was in Jerusalem when P.O.D. first inquired about him, joins the group on the upbeat "Roots in Stereo" and the worshipful "Strength of My Life." Also making guest appearances are hip-hop legends the Boo-Yaa T.R.I.B.E. and Sick Jacken from the L.A. rap duo The Psycho Realm.
Still, the most notable appearance comes behind the soundboard. After recording its previous three albums with Howard Benson (Hoobastank), P.O.D. worked with veteran producer Glen Ballard (Alanis Morissette, Dave Matthews Band) on "Testify."
"I think we just wanted to try something different," admits Sandoval about the producer change. "There were some scheduling issues. But at that time we had done three records, and we are always trying to learn different things. We started with one of Rick Rubin's main engineers and got some really amazing sounds, but, once we got to the vocals, we realized that we were just duplicating a lot of the early demo work we had done. That's when we started working with Glen, and he was like, 'Man, we've just got to color all of this in.' We worked with him at his studio/home for a month and a half, and it was a cool experience."
Looking back, P.O.D. – which also features bassist Traa Daniels and guitarist Jason Truby – formed 14 years ago in the San Diego suburb of San Ysidro, not far from the U.S./Mexico border. The band, whose name is short for "Payable on Death," self-released "Snuff the Punk", "Brown" and "Live at Tomfest" before finally signing with Atlantic Records. The group then broke big during the nü-metal craze, scoring huge radio hits with "Southtown" and "Rock the Party (Off the Hook)." However, when "Satellite" came out on Sept. 11, 2001, the band's emerging hit "Alive" took on new meaning and became a positive anthem for people of all faiths.
"The fact that the album came out on 9/11 and that the tragedy hit really woke up a lot of hearts and minds," remarks Sandoval. "People were like, 'I want music that makes me think about stuff and helps me take my mind off of the tragedy.' I feel very fortunate to be a part of that song, and it is still one of my favorites. The sad part is that the U.S. had such a bond and brotherhood at the time, and, now that 9/11 is said and done with, everyone's back to the grind and back to their grudges."
"Satellite" also produced the hits "Boom" and "Youth of the Nation," the latter about a local high school shooting. With the departure of Marcos Curiel in '03, the band had little time to gel with replacement guitarist Jason Truby, yet its self-titled follow-up still produced the Top 20 rock hit "Will You." P.O.D. toured heavily with groups such as Linkin Park, which gave Truby a chance to settle into his new role before recording "Testify." In recent years, the band also contributed music to "The Passion of the Christ:  Songs", Santana's "Shaman" and the "XXX: State of the Union", "Matrix Reloaded" and "Little Nicky" soundtracks.
Despite all the success, Wuv still emphasizes the importance of humility. He remarks, "We always want to take the attitude 'Thanks for having us' because it's always going to be that exciting for me. When it isn't, it'll be time for us to stop. In the meantime, there's still music inside of P.O.D., and we still have stuff to say. We got the blessing from our families to keep playing music, so there's no reason to stop."


© 2006 CCM Magazine.  All rights reserved.  Used with permission.   Click here to subscribe.





Have something to say about this article? Leave your comment via Facebook below!
advertise with us
Example: "Gen 1:1" "John 3" "Moses" "trust"
Advanced Search
Listen to Your Favorite Pastors