Red: Basic Instincts
Matt Conner, CMCentral.com
Friday, February 27, 2009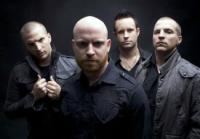 The whirlwind of activity. That's the obvious first subject when you learn you're going to talk to Red. Nearly three years of relentless touring and press, numerous No. 1 hits, sales exceeding 300,000 units, supporting spots playing alongside some of rock music's best and brightest—and it all comes on the heels of the band's debut album. It's the exciting story of very few Christian acts—think Switchfoot, Jars of Clay—and yet it's also the story of being so busy that you forget what day of the week it is.
On the eve of releasing Red's sophomore album, Innocence and Instinct (Essential), CMCentral got the latest from the band to discuss its success, its schedule and the tragic accident that gave the members perspective inside it all.
CMCentral: The flurry of activity has to be so exciting with so much success. Yet, I also see you guys doing so much all the time. How does the schedule and success affect how you head into this new album?
Jasen Rauch (guitarist, Red): First of all, going into this record was really different, although that can become cliché. Before, we had all the time in the world where we weren't getting fully committed to a full-time musical career and the record deal and the different pressures like that. We were really writing as fans. So we really wanted to maintain that integrity going into the second record.
However, being on the road so much and for so long has its challenges—from the scheduling or the pressure it brings to maintain a certain level of success with the next record. But all in all, we're the kind of people who thrive under pressure. We're able to turn those pressures into motivators for us.
So the feeling now is that we go out every day and play in front of people, and we're humbled when we see them. We're humbled by the emails we get saying that our music has changed people's lives. But every day brings something new, and we realize how blessed we are to be here in the position that we are. That helps guide us through the pressure and keeps us motivated. Otherwise, those things can be really scary.
CMCentral: Of all the experiences over the last three years, is there one that's more surreal than others?
Jasen: Our first record, End of Silence, came out in June of 2006, and we are right now in the longest break since then. We've been constantly going and going, where some days we're up for 20 hours a day for a week-and-a-half straight, between press and shows and load-ins and acoustic shows and interviews and radio stations. You get caught up in the momentum and lose track of what day it is or where you're at or where you played the night before. It becomes this surreal vortex that you get sucked into, and you lose a grasp of what's going on around you—in the news or with your family at home because you're on the go.
Then in November of 2007, we had a really nasty van wreck, and we were fortunate to come away with our lives. I think that one moment was enough to shake us and bring us back and give us the perspective on the responsibility of what we do. It also showed us how fragile this process is and how responsible we need to be to our calling. So that moment stands out to me because it was such an unwanted and scary experience … and walking away from that made us grow so much. Our perspective changed so much from that one moment about who we are and what we're doing.
CMCentral: What about career moments? Is there one show that you're playing or one event you're at or one award you win that you look at each other and wonder how you got here?
Jasen: Being out on some of the tours that we've had the fortune of being on is definitely something I think of. I remember the early tours we would play where we are one of four bands, and we're playing for 50 people. Then within a year, we're playing to four or five thousand people a night in these half-arena shows in these huge packages. You wonder how this even happened because things are really taking off. Then in the middle of that process, we were nominated for a GRAMMY.
Have something to say about this article? Leave your comment via Facebook below!
advertise with us
Example: "Gen 1:1" "John 3" "Moses" "trust"
Advanced Search
Listen to Your Favorite Pastors