Selah: What You See Isn't Always What You Get
David McCreary, CCM Magazine
Monday, September 20, 2004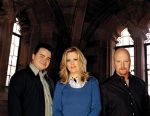 "I think the new album title is really symbolic because my first solo record completely 'tanked,'" she reveals. "Just when you think something is over and dead, it's like God says, 'Wait a minute, I can make something happen,' and the things we think are lifeless He resurrects."
Nicol, whose musical influences include Aretha Franklin and Karen Carpenter, previously sang backup for artists as diverse as Amy Grant, Wynonna Judd, Dallas Holm and 4HIM. She says she's especially grateful to Mike Curb, founder and chairman of Curb Records, for affording her the opportunity to record another solo project. "He's one of the few people left who believes in giving time to developing artists," she says of Curb. "It was his idea for me to do this record."
With "Resurrection," Nicol delivers a groove-filled selection of pop/R&B tracks in the vein of Ashley Cleveland and Joni Mitchell. Throaty vocals and spirited rhythms abound, including the silky balladry of "Safe" and the piano-driven intonations of "All That I Believe In." Not surprisingly, an unyielding message of hope and redemption prevails throughout.
Todd Smith
Become a rock star. That was singer Todd Smith's "dream" back in the 1980s, a time when he enjoyed listening to bands such as Boston, Journey and Kansas. And yet, he has long been influenced vocally by Christian artists such as Russ Taff, Michael English and Bob Carlisle, "especially when he was with the group Allies," he says.
"If you had told me back then that I would end up in a trio with my sister, singing hymns, I would have said, 'What in the world are you talking about?'" On his debut solo release, "Alive," Todd unleashes his inner rock star with an energetic set he says is mainly geared toward male listeners. Todd produced a portion of the project, along with the capable assistance of Matt Bronleewe (Michael W. Smith, Natalie Imbruglia) and Jimmy Collins (Selah, Plumb).
Todd explains that he read the book "Wild at Heart" (Thomas Nelson) by John Eldredge, and that its theme of living passionately for Christ inspired him to record a solo project. "The whole album conceptually encompasses a conversation I'm having with men," he says.
Driving tracks like "Lukewarm" speak to the importance of being accountable to others, while the title track addresses going beyond the comfort zone of faith. "On one of the verses, I talk about jumping off a cliff and bringing the death of my old self," Todd shares. "I want to get to the point where I can say, 'OK, God, I don't know what plans You have for me; but whatever door You open, I'm going to take that step.'"
Allan Hall
Sporting a distinct, East-Tennessee flavor, Allan Hall's solo disc, "House of a Thousand Dreams," teems with the bluegrass and country influences he loves most. "I've made the album I really wanted to record," he says with fervor. "It's great that Curb has given me the creative freedom to do something like this."
Allan's supple tenor voice and expressive keyboarding are well-suited for the relaxed offerings found on Dreams, produced by the artist himself along with Jason Kyle (Selah). Whether it's the much-too-brief rendition of "Down in the River to Pray" (Think "O, Brother Where Art Thou?") or the peaceful minimalism of "Nearer My God to Thee," he delivers an album filled with serene melodies and memorable refrains.
For someone who enjoys a wide variety of music, it's interesting that Allan's solo project gravitates more toward country than any other genre. "I can go directly from listening to Beethoven to a Journey song and then go to Patsy Cline," he says, before adding, "But Emmylou Harris is my favorite."
Allan also is quick to mention that one of his career highlights happened just a few years ago when he had the opportunity to sing with country sensation Dolly Parton. "She recorded a duet with me on our [Selah] Christmas album, and that was such a privilege," he says. "She was so gracious and kind, and she even told me how proud she was that I had moved away from home and was able to make a living playing music in Nashville."
As it turns out, both musicians hail from East Tennessee and each left home at age 18 to set out for Music City. "I'm out here living my dream," Allan says.

© 2004 CCM Magazine.  All rights reserved.  Used with permission.  Click here to subscribe.
Have something to say about this article? Leave your comment via Facebook below!
advertise with us
Example: "Gen 1:1" "John 3" "Moses" "trust"
Advanced Search
Listen to Your Favorite Pastors