The Dark Side of Beauty
Lizza Connor, CCM Magazine
Tuesday, April 27, 2004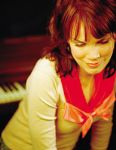 As a songwriter and a creative person, I'm always searching for something," singer/songwriter Ginny Owens says over lunch at Bricks, a cozy Franklin, Tenn., diner that's a block from her home. "I don't always know what I'm searching for; and, even in the most content times in my life, my mind is wandering. If I'm going to continue on this [musical path], the only way to move forward is to have varied experiences rather than do the same thing every day. That means going to a place where I am more open, honest and comfortable with the story I have to tell."
Owens' "story," is found in the songs of her third Rocketown Records release, "Beautiful." The most honest and accurate picture of her life to date, according to the writer of No. 1 singles "Free," "If You Want Me To" and "I Am Nothing," the record chronicles her quest to define terms. "The dark side of the song, 'Call Me Beautiful' [after which the record is named] came out of a huge struggle in my heart to understand what real beauty is," says Owens. "Who has it? How do you define it?"
And while her question is one pondered by any thinking person, Owens' struggle to grasp the concept was intensified due to her lack of sight, she says. Because she went blind at a young age due to a congenital eye disease, Owens says it was always hard for her to comprehend what "beautiful" was because she'd always associated the word with visual things. "I would be out on tour and hear guys say things like, 'She's hot; she's beautiful,' but I never heard that said to me," Owens explains.
Even in younger years, Owens shied away from exploring the concept because the introspective singer feared sticking out in a crowd. "I'm not sure why, but I grew up not very aware of what things looked like. My mom would describe things in detail, and I don't know if it's that I didn't listen or if I just had sensory overload growing up – trying to adjust to life in general – but I had very little appreciation for visual things."
She explains how she tried to avoid being "different" at any cost, and now that often she kept her inquiries about the world to herself: "I tried to go so far as not to ask for things that were too unusual," says Owens. "I didn't ask visual questions because I wanted to blend in – so people didn't feel I was an inconvenience. For years I felt like, 'If I just work really hard, then I'll be accepted. I'd always thought there was no way I could be beautiful anyway because I can't see. I believed they'd never see me as beautiful because that [blindness] was an obvious flaw I had."
Her drive to understand beauty was intensified just after Owens signed with Rocketown. She accompanied label mate Chris Rice and songwriter Wayne Kirkpatrick on a tour in support of her debut record, "Without Condition," and the result was a sense of wonder she'd never experienced. Owens says Rice and Kirkpatrick were the first people (besides her mother) who really invested the energy in explaining the world in detail, painting pictures for Owens in ways she'd never experienced. "We'd go down to the beach on a tour stop in Florida, and they'd say, 'I wish you could see the stars right now.' They'd describe what stars were – how they didn't look like the five-point shape you'd imagine, but that they were tiny [when you looked at them]. They explained what rainbows and stuff like that looked like. I called them the Discovery Channel," jokes Owens.
Have something to say about this article? Leave your comment via Facebook below!
advertise with us
Example: "Gen 1:1" "John 3" "Moses" "trust"
Advanced Search
Listen to Your Favorite Pastors