The Making of a Duo
Anthony DeBarros, Contributing Writer
Monday, June 30, 2003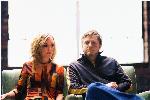 Marc Byrd

Marc Byrd's story divides easily into two distinct eras. The first happened in El Dorado, the small Arkansas town where he grew up, watched his parents split, fell into drugs, cleaned up, devoted his life to Christ and formed the critically acclaimed rock band Common Children. The second surrounds a certain worship song you may have heard of: "God of Wonders."

The journey from one to the other — via a Nashville burger joint called Cheeseburger Charleys — involves more than distance and time. It's the story of one man's move from darkness into light.

"I'm living out my redemption and reconciliation," says Byrd, 33, just before heading out on the road with his new band, GlassByrd, a duo with his wife, Christine Glass. "I'm stepping into it with open arms."

But let's back up. As a boy in El Dorado, Byrd was weaned on rock 'n' roll classics: U2, The Cure, Pink Floyd. He attended church but grew bitter when what seemed like spiritual renewal in his parents' lives led to divorce. "That really put a seed of doubt in me," he says.

Anger and depression led to drugs. He hit bottom when a close friend died after a night of partying — an episode Byrd chronicles in the companion book to the first "City on a Hill" (Essential) worship album. "That really turned me around," he says. "I swayed away from the drug use and got involved in a ministry and basically began to really hunger for knowledge [about God]."

Leading worship led to Common Children, a hard-rocking outfit with songs veering from lush dreamscapes to chest-pounding bursts of aggression. The band moved to Nashville, recorded two albums and promptly ran out of money.

"It's not fun making your second record while you're sleeping on the floor of a studio with all your belongings in the van," Byrd says. "It was a dark time."

Yet, it was then — with Byrd working occasionally at Cheeseburger Charleys to pay the bills — that friend and producer Steve Hindalong stopped by one day to say he'd landed a worship project and wondered if Byrd had any songs. Why, yes, he did. One was the skeleton of "God of Wonders," which Byrd had written while reading Psalms. The two finished the song on Hindalong's porch, and it went on to fuel "City on a Hill" and become one of the most popular modern worship songs in recent history.

Even more valuable, the time spent recording the first "City on a Hill" album helped cement his reconnection with the body of Christ.

"Meeting [these] artists … putting faces on them, realizing their hearts were really pure and writing these songs, spiritually, for me, was very, very healthy," he says. "I regained a sense of why I do what I do and why I chose to do Christian music."

Christine Glass

The way Glass tells her story, few of her co-workers at Word Records in Nashville had any idea she wrote songs or — better yet — could sing them so well. Boy, were they in for a surprise.

Glass had moved to Nashville in the early '90s after earning a vocal performance degree at Louisiana Tech University. At the invitation of a friend, she took a job as a receptionist at Word, staying for five years and rising through the ranks to the position of art director.

Music resonated most with her, but she resisted the urge to self-promote. "I didn't want to go in and just get a job at a record company and start passing out demos to everybody who worked there," says Glass, 32. "I wanted to feel the place out and get to know people and figure out in which direction I wanted to go."

Have something to say about this article? Leave your comment via Facebook below!
advertise with us
Example: "Gen 1:1" "John 3" "Moses" "trust"
Advanced Search
Listen to Your Favorite Pastors