The Making of a Duo
Anthony DeBarros, Contributing Writer
Monday, June 30, 2003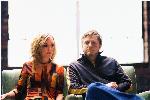 But talent couldn't stay hidden for long. Glass sang on demos and did backup vocals on projects. She also struck up a friendship with musician Tommy Greer, who, with financial help from Word, helped her produce a four-song demo.

In a scene that would make a good movie script, a Word staffer secretly arranged for a photo shoot and showcase where Glass could sing in front of her colleagues.

 "She had all these photos put together on a videotape and played the video for a crowd of Word people, including the president of Word," Glass remembers. "They're watching these photos go by, and they're listening to this demo, and they have no idea it's me. At the end, I walk in and sing one live song. I think they were pretty surprised."

Glass' breathy, alternative style wasn't a fit for Word at the time, but it was for startup Tattoo Records, whose roster included The Choir and Common Children. In 1997, Tattoo released her debut, "Human," but her career promptly hit a wall when the label began cutbacks and released her nine months later.

"The day I found out I got dropped, I sobbed. I was so distraught," she says. "I just felt that it was completely unfair, but that's life. This stuff happens every day."

Even though she went on to record the well-received "Love & Poverty" for Rustproof in 1999, Glass says she learned that success and accolades aren't important. These days, when she reads reviews of her work, it doesn't affect her like it used to. "I care more about my marriage, my friendships and about my relationship with Christ," says Glass. "All that other stuff is just background noise."

GlassByrd

Given their artistic temperaments and wealth of life lessons, there's little surprise that a Marc Byrd-Christine Glass collaboration would yield nothing less than one of the year's most compelling albums, "Open Wide This Window" (Word).

As GlassByrd, it's the first full-length melding of their distinct voices — Byrd's melodic rasp and Glass' ethereal chime. But it's not the first time they've worked together.

The two met in the late 1990s during a writing session for Glass' "Human" album. They kept in touch, began dating and married in 2000.

"I remember just feeling a connection with him," Glass says. "We talked about spiritual things — obviously writing lyrics together — and I remember thinking, 'Wow, this is a really cool guy.'"

"I would say there was an immediate attraction," Byrd adds. "She's beautiful, intelligent, creative, talented and not shallow. And, more than anything, she takes her faith very seriously, wrestles with it and is very honest with it. From a spiritual perspective, that means more to me than anything."

Their first collaboration resulted in "Whisper," which Byrd recorded for Common Children's second album, "Delicate Fade" (Benson). Glass contributed background vocals and, listening to the song today, it carries the blueprints for GlassByrd.

"A lot of these [songs] came out of our own private times of worship. And we were also being aware of the audience that bought "City on a Hill" and enjoyed 'God of Wonders,'" Byrd explains. The new album, he says, "is, in a sense, saying, 'Thanks, God, and thanks, all you guys out there. Here's a record that I hope touches you and is, for me, still beautiful and artistic yet at the same time lyrically more accessible, too.'"

Have something to say about this article? Leave your comment via Facebook below!
advertise with us
Example: "Gen 1:1" "John 3" "Moses" "trust"
Advanced Search
Listen to Your Favorite Pastors