Thousand Foot Krutch Dares to Move in New Musical Territory
Doug Van Pelt, CCM Magazine
Tuesday, November 08, 2005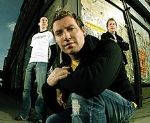 Thousand Foot Krutch has certainly come a long way since the late '90s, when the fledgling band performed at high school proms and "corn-roast parties."

Thanks to a willingness to take risks, TFK's world now consists of coveted live performance slots, major mainstream radio airplay and chart-climbing album sales.
It's not every band that can transcend a genre or survive its passing, but this Tooth & Nail recording artist has done just that. The Toronto-based group burst onto a growing raprock scene in 2000 with an energetic live show built on an aggressive, 270-date per year touring ethic, creating a healthy buzz and fan base on the strength of just one album – "Set It Off" (which was re-mixed, re-mastered, re-packaged and re-released last year and has now sold more than 85,000 copies). The band seemed to easily whip each audience into a massive pogo-ing throng with crowd favorites such as "Puppet" and "Supafly."
Looking back at Thousand Foot Krutch's history (which actually started in 1998 with the indie release, "That's What People Do"), front man Trevor McNevan makes no apologies for his involvement in what has become an all-but-dead genre: "That was a long time ago," he laughs. "I'm a big hip-hop listener. I love it in general, and that's still a passion I have. At the time, we were having a ton of fun fusing hip-hop with rock, funk, elements of jazz and a whole bunch of different things. ... There were some great influences from the Chili Peppers ... the first Rage [Against The Machine] record, "Epic" by Faith No More, Anthrax and Public Enemy. ... It wasn't something that had been over-exposed or overdone at all. It was still a very honest hybrid and something you could have fun with. So that's what we did."
As the next few years went by, TFK's tastes changed along with industry trends that clearly shifted away from raprock. "You mature as musicians and artists; but you also grow, and the music you enjoy listening to or playing or writing obviously grows with you or changes," explains McNevan. "But during that time, most importantly, I had noticed that hip-hop was just being milked for everything it was worth in rock & roll, R&B and even country. You would hear The Rolling Stones with a remake that had a scratch in it. ... People were just trying to sell records by fusing hip-hop or having someone in the background, like a hype man or something. So, that was the Limp Bizkit phase and that whole 'nu-metal,' as they call it, or 'raprock' or 'rapcore.' To me, it felt very over-polluted. I feel P.O.D. did it well, and I always felt like we could easily continue fusing hip-hop with music and making it interesting, creative and honest; but in the same sense, we didn't want to be hyped as just another one of those bands."
And the truly great bands? They evolve with each album and aren't afraid to move into new musical territory, while maintaining their artistic integrity. With 2003's "Phenomenon," which documented a distinct shift in focus on rock & roll, Thousand Foot Krutch did just that.
"Hopefully, with every record, we can do something fresh and evolve," says McNevan. "I think it was just a natural progression for us, where we tried to stretch ourselves as musicians a lot more."
Stretch? You bet. And the band's fan base not only went with them, it actually mushroomed in size. Propelled by the multi-format hit single "Rawk Fist," "Phenomenon" sold more than 155,000 copies. Many of TFK's new fans were tapped via the mainstream rock world as "Rawk Fist" entered the Top 25 of Radio & Records' Active Rock airplay chart and, by the end of 2004, was one of the format's 75 most played songs of the year. With such success came new touring opportunities; and, before long, the band was sharing the stage with the likes of Jimmy Eat World, Foo Fighters, Chevelle, Switchfoot and The Donnas.
Have something to say about this article? Leave your comment via Facebook below!
advertise with us
Example: "Gen 1:1" "John 3" "Moses" "trust"
Advanced Search
Listen to Your Favorite Pastors