ZOEgirl: Making Every Breath Count
David Jenison, CCM Magazine
Tuesday, March 29, 2005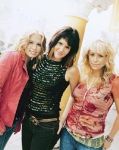 When ZOEgirl released its self-titled debut in 2000, pop artists like *NSYNC, Backstreet Boys and Britney Spears ruled the charts. Surely there was a need for a positive alternative, and ZOEgirl filled the void with catchy dance pop numbers and a slickly produced live show. Ironically, the group's success didn't lead the trio to do more of the same. Instead, Chrissy Conway, Alisa Girard and Kristin Swinford sought to show their fans something else — the real depth behind their catchy pop tunes.
Consider the changes over the past five years. When this trio began, it performed choreographed dance routines to what was essentially programmed pop music. Moreover, the girls were once coerced into doing an 82-city tour wearing what they describe as "spacesuits." Evidently, because they had been designed by the guy who did *NSYNC's outfits, someone thought they were trendy.
"I didn't think they were cool, and I don't know why we wore them," laughs Girard. "But at least our fashion faux pas was coordinated!"
In the years since, the girls ditched the dance moves and NASA garb, assembled a live touring band and introduced more instrumentation into their music for a more organic pop sound.
As a result, three girls who barely knew each other when the group formed now find them-selves speaking in one voice as honest and transparent artists.
"I felt our last album, 'Different Kind of FREE,' was the first time I could actually say the album is 100 percent who we are," admits Girard. "We weren't worried about fitting into any mold, category or demographic. This is just who we are. Naturally, 'Room to Breathe' is an extension of that."
"Instead of worrying about what's happening in pop right now, we've been able to insert more of our personal styles into each album," adds Swinford. "We all have different styles, and whatever we categorize ourselves as individually continues to mesh into what has become the ZOEgirl 'sound.'"
While forging their ideas and influences together for most of the album, the three young women also expressed themselves as individuals with one solo track each. These songs stand out because they were written primarily as a reflection of the person and not the group. Contrary to the standard notions of empty pop, these songs read like pages from a private diary and give fans the best opportunity to scratch below the surface.
For example, on the song "Scream," Girard utilized a rock sound to back a powerful message about sexual abuse and "cutting." She explains, "I'm not talking about girls who look like they are hurting; I'm talking about girls who look like Hilary Duff and grow up in the church and look like they don't have a care in the world. There are girls who are [literally] cutting themselves or who have eating disorders or hidden secrets about sexual abuse, and they don't know what to do with all this pain. Unfortunately, I wish I could say the song was all based on what people tell me. I've never been one to cut myself, but I've been in a lot of pain. I hope this song will reach a lot of people in a deep way."
Conway was equally direct with "Skin Deep," a song about self-esteem issues. She explains, "Honestly, that is something I have continuously struggled with in my life. Our culture is so focused on skin, through sexuality that is perceived as power. I believe that we were created for something so much different."
"Skin Deep" actually continues a discussion started with "Plain," an earlier song about self-esteem that Conway wrote for ZOEgirl's 2001 "Life" album. Remembering some people's reactions to "Plain," the singer worries that the message might be lost on people who think a popular stage performer can't truly relate.
Have something to say about this article? Leave your comment via Facebook below!
advertise with us
Example: "Gen 1:1" "John 3" "Moses" "trust"
Advanced Search
Listen to Your Favorite Pastors