Duck Dynasty Success Thrives on Christian Stereotypes
Sarah Pulliam Bailey, Religion News Service
Thursday, August 22, 2013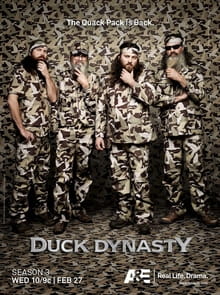 (RNS) -- A show capitalizing on Southern Christian stereotypes has snowballed into success, with faith and duck hunting creating a recipe for a ratings sensation on Duck Dynasty. The A&E show drew nationwide attention last week after its season premiere attracted 11.8 million viewers, becoming the most-watched reality premiere in history by topping series like Jersey Shore and Jon & Kate Plus 8. Put into perspective, the show drew more viewers than the highest viewed episodes of Breaking Bad and Mad Men combined, and would be the most-watched show if it aired on NBC.
The show follows members of the extended Robertson clan, the family that runs the Duck Commander hunting supply company in Louisiana. During its inaugural season in 2008, the show attracted a mere 1.4 million viewers. The show is probably best known for the gun-toting Robertsons' Southern drawl, unruly beards and camouflage wardrobe. But between TLC's 19 Kids and Counting and National Geographic Channel's upcoming Snake Salvation, the Duck Dynasty portrayal of rural Southern Christians may be among the most tame in the reality TV genre.
"There's a risk that someone could watch the show and think all Christians are like that, but that would come from a place of ignorance," said Jennifer Wishon, a correspondent for the Christian Broadcasting Network. "They're just guys from Louisiana who like to make duck calls and hunt and that doesn't represent the interests of all Christians." CBN invited members of the Robertson family to this year's White House Correspondents' Dinner, where comedian Conan O'Brien briefly poked fun, saying they were invited because the guys from Storage Wars weren't available. Wishon said that Willie and Korie Robertson were also invited to President Obama's private reception at the dinner, and the president told them he watches the show on Air Force One.
The Robertsons don't shy away from social issues. In a speech to a pregnancy center that has gained recent attention, patriarch Phil Robertson decried the hippie generation and abortion, saying, "That movement lured 60 million babies out of their mothers' wombs." Jase and Missy Robertson have suggested that they waited until marriage to have sex.
"Our faith is the main part of our lives, but it's better to be subtle," said Alan Robertson, the beardless fourth brother of the clan. "We don't want to make it like 'The 700 Club for Rednecks.'"
The Robertsons have taken their message on the road; Alan and Phil Robertson filled in for Rick Warren at Saddleback Church, sharing about the patriarch's alcoholic past and marital troubles. Decrying the state of the nation, Phil Robertson suggested "if the founding fathers of this country could see how degraded American morality has become, they would hang their heads in shame."
In his best-selling book, Happy, Happy, Happy, he wrote: "Our founding fathers started this country and built it on God and His Word, and this country sure would be a better place to live and raise our children if we still followed their ideals and beliefs."
The Robertsons attend White's Ferry Road Church of Christ in West Monroe, La., part of a Restoration Movement fellowship of 13,000 U.S. congregations that generally teach that baptism by immersion at the "age of accountability" is integral to salvation. Phil Robertson told The Christian Chronicle that he and his sons Alan and Jase preach the same message of faith, repentance and baptism wherever they're invited. At Saddleback, Phil Robertson emphasized the importance of baptism.
Have something to say about this article? Leave your comment via Facebook below!
advertise with us
Example: "Gen 1:1" "John 3" "Moses" "trust"
Advanced Search
Listen to Your Favorite Pastors