Bad Christian Art
Tony Woodlief, Image Journal
Monday, June 13, 2011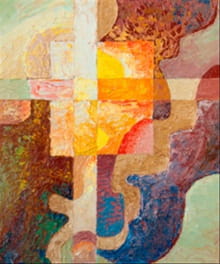 Dietrich Bonhoeffer's warning against cheap grace comes to mind, a recognition that our redemption was bought with a price, as redemption always is. The writer who gives us sentimentality is akin to the painter Thomas Kinkade, who explicitly aims to paint the world without the Fall, which is not really the world at all, but a cheap, maudlin, knock-off of the world, a world without suffering and desperate faith and Christ Himself, which is not really a world worth painting, or writing about, or redeeming.
Cleanliness: I confess that the best way to deter me from watching a movie is to tell me it's "wholesome." This is because that word applied to art is a lie on its face, because insofar as art is stripped of the world's sin and suffering it is not really whole at all.
This seems to be a failing—on the part of artist and consumer alike—in what my Orthodox friends call theosis, or walk, as my evangelical friends say. In short, if Christian novels and movies and blogs and speeches must be stripped of profanity and sensuality and critical questions, all for the sake of sparing us scandal, then we have to wonder what has happened that such a wide swath of Christendom has failed to graduate from milk to meat.
And if we remember that theology is the knowing of God, we have to ask in turn why so many Christians know God so weakly that they need such wholesomeness in order for their faith to be preserved.
This, finally, is what especially worries me, that bad Christian art is a problem of demand rather than supply. What if a reinvigorated Church were to embed genuine faith in the artist's psyche and soul, such that he need no longer wear it on his sleeve, such that he bear to see and tell the world in its brokenness and beauty? Would Christian audiences embrace or despise the result?
Publication date: June 13, 2011
Have something to say about this article? Leave your comment via Facebook below!
advertise with us
Example: "Gen 1:1" "John 3" "Moses" "trust"
Advanced Search
Listen to Your Favorite Pastors