How to Start an Arts Ministry in Your Church
J. Scott McElroy & Jessie Nilo, Finding Divine Inspiration
Tuesday, April 05, 2011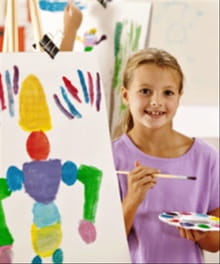 4. Understand where they are coming from. Many artists have been offended by the church or Christians. Just spending time with them will help heal that. You will bless them immensely if you take the time to pray for each of them individually at some point during the meeting. As these artists flourish, your congregation will flourish.
5. Later, when you have an Arts Leader, have them call a meeting–which you attend–to talk about specific arts project you and they want to do. Your attendance will help commission them and clarify direction. NOTE: It is important to meet at least occasionally with your arts leadership. Discuss difficulties, challenges and dreams they have. Give them a list of dates, topics or services you'd like to see the arts integrated into. MAKE SURE you've spent time listening to them first. If you give them ideas first they may be overloaded. Help them to set up a plan for discipling the artists in their care. Let them know you and the church stand behind them.
Part Two: For ARTISTS who want to start an arts ministry, program or outreach at their church.
1. Start praying now for God's guidance. First, it's important to take some time to pray through what role God would have you play in starting or facilitating an arts ministry. You want to ask Him to check your motives, prepare your heart and confirm if He is calling you to step out and initiate or lead. Ask someone else to pray with you about integrating the arts in your church, and for God to open the doors. You want this to happen naturally, in God's timing and to not be forced. (See Notes 6 for prayer inspiration and direction).
2. Talk with someone in leadership about integrating the arts into your church. Get some input from leadership. Your Senior Pastor may or may not be the person to approach to start this dialogue; it may be the Worship Pastor or maybe an elder who "gets" you. Many churches are somewhat entrenched in the "way we always do things," so you need to be patient, respectful, and trustworthy in your approach. If your church is more open to the arts, explore where leadership would like to go with the arts in the future. Ask for dates when arts projects would fit in to services. Get permission to hold a meeting for artists, if that seems to be the next step.
3. Invite Artists to meet and pray. See if you can put a notice in the church bulletin inviting interested artists and creative types to meet at the church or a nearby coffeehouse to pray and talk about what integrating the arts into your church might look like. Use the time to pray, get to know each other, talk about possibly starting an arts ministry, gather contact information and circulate a survey. (See Notes 4 for survey). Talk about tentative dates for another meeting, possibly a repeating time once a month or once a quarter. Try to make future meetings a time to connect and be authentic with other artists. Pray for needs, for healing, for projects, for commissioning. Maybe anoint each person with oil, if you do that kind of thing, or have everyone place their hands on the person being prayed for. Foster connection! If you have a large group, break up into groups of 4 people or so.
4. Pray about a project or idea you might suggest during the meeting. It's a good thing to give people something to do after you get them excited. There are many project ideas that can get your artists, the congregation and leadership involved (see Notes 7 for ideas). If you have someone who can hold a workshop on an area of the arts, see if there is interest in that. You might also take some time during the meeting to brainstorm and listen to God together, asking Him how you can collaborate with Him in the arts. (See Notes 5).
Starting an arts ministry in your church can be a challenging process, but under the guidance of the Holy Spirit it may become one of the richest and most enjoyable ministries your congregation has.
Have something to say about this article? Leave your comment via Facebook below!
advertise with us
Example: "Gen 1:1" "John 3" "Moses" "trust"
Advanced Search
Listen to Your Favorite Pastors