Dads Can Emulate the Image of Our Heavenly Father
Eva Marie Everson, Contributing Writer
Thursday, June 17, 2004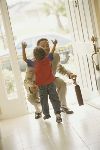 Welcome to "The Cross & the Pen," Crosswalk.com's author-to-author interview column. Please allow me to tell you about my friend, Bryan Davis. The first time I met Bryan (and I can't even remember how long ago it was…) I thought, "This man is truly an example of our Heavenly Father." How fitting, then, for Bryan to write a book about fatherhood, The Image of a Father (AMG Publishers).
Bryan Davis exudes "quiet authority," and "patient love." One doesn't have to be around him long to know the most important things in his life are his relationship with God and his relationship with his wife and children…all seven of them! When Bryan told me about his upcoming book, I waited anxiously for it…and then devoured it…yes, even as a mother, rather than a father.  Recently we chatted about The Image of a Father and fatherhood and writing and all that…wanna listen in?
Eva: Bryan, if anyone is qualified to write a book on fatherhood, I suppose it's you. Would you tell my readers about your family?
Bryan: Glad to, Eva. My wife, Susie and I have seven children, four girls and three boys. The oldest is James, our 21-year-old. He's a student at Florida State University majoring in economics. Josiah is our 19-year-old tennis enthusiast who is attending the local community college. Arianna, our 17-year-old, is also attending community college and is planning to major in international economics. These three were educated all the way through high school in our homeschool. The rest of our children are currently homeschooled. Caleb is our 15-year-old high schooler, and plays the cello in an orchestra. Amanda is 13 years old and loves to sew and read. Rachel, our 9-year-old, is a blossoming pianist, and she also enjoys reading. Hannah is seven. She also plays piano, and, as the baby of the family, is a little ray of sunshine.
Eva: Do you mind talking a bit about your decision to sell your portion of an investment business?
Bryan: I felt God's call to write about eight years ago, but I thought I could answer the call by writing at night after the children were in bed or during lunch breaks. The problem was that I couldn't really devote the time I needed to learning the craft. My publishing results reflected my lack of skill. I couldn't seem to get publishers interested in my work. I decided that the only way I could really break into the field would be to get the necessary training and make writing my career. I began asking God how to do that and still feed my family. I knew God would always supply my needs, but I didn't know if that meant quitting my job and stepping out in faith without a salary. Eva, as you know, God is always faithful. Another company bought our investment firm, including my shares. I was able to transfer my duties to others over time, then leave the company and have some money to live on until my writing efforts bore financial fruit. I'm thankful to God for allowing me to make a smooth transition.
Eva: Bryan, what were the circumstances around the birthing of your book, The Image of a Father?
Birthing? I suppose this book had a 20-year gestation period. When my first son was born, I was clueless. I held him in my arms and said, "What do I do now?" There were plenty of books on what to do with a child, from changing diapers to planning for college, but what I really needed was something deeper, instructions on how to be the man I needed to be. This book shows a man how to reflect the image of God as a father, how to show our children what God is like. My desire to be a father after God's own heart lead me to the Scriptures. I wanted to see the fatherhood of God and how he guided His people. Those reflections and studies brought about the birth of this book.
Recently on Spiritual Life
Have something to say about this article? Leave your comment via Facebook below!
advertise with us
Example: "Gen 1:1" "John 3" "Moses" "trust"
Advanced Search
Listen to Your Favorite Pastors