Go on a Mission Right Here, Right Now
Whitney Hopler, Crosswalk.com Contributing Writer
Wednesday, October 12, 2011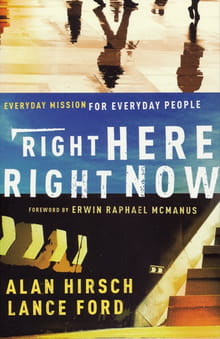 Editor's Note: The following is a report on the practical applications of Alan Hirsch & Lance Ford's book, Right Here, Right Now: Everyday Mission for Everyday People, (Baker Books, 2011).
Want to join God in His redemptive work in the world? You don't have to get special training and travel to a foreign country as a missionary to do so. God has a mission for you right now, right where you are – in your neighborhood, workplace, school, and wherever else you go every day. Your work sharing your faith and helping others is just as important as the work that vocational missionaries do. So be alert to the many opportunities God gives you to reach people who need Him.
Here's how you can go on a mission right here and now:
Remember who you represent. As a Christian, you represent Jesus with every person you encounter, and if you intentionally build relationships with people designed to help them grow spiritually, you can point people to Him in powerful ways.
Pray for perspective. Ask God to give you His perspective on the world immediately around you and the people within your sphere of influence. Realize that God has sent you as a missionary to everyone you interact with, right where you live. Every day, wake up with your eyes, mind, and soul wide open to hear what God has to say to you and to notice the opportunities He is giving you to touch people's lives with His love. Don't let the enormity of the needs you encounter overwhelm you; remember that God will help you do everything He asks when you rely on His strength to do it.
Pray for compassion. Fight the sinful selfishness that hinders your mission work by keeping you focused just on your own comfort, security, gratification, and convenience. Ask God to give you the compassion that you need to love and serve other people in the ways He calls you to do so. Pray for the ability to recognize God's image in each person you meet, and remember that you're serving God by serving others.
Go beyond belief to obedience. Don't stop at just believing in Jesus; believe what Jesus said about how to live by obeying His guidance and really living that way. Actually pursue the changes that Jesus wants you to make in your life so you can respond well to His callings to love and serve others. Whenever you read the Bible, pray for the Holy Spirit to help you see how you can put those words into action in your life right away. Aim to keep growing in obedience to God.
Move out into the culture around you. Get to know what issues matter to the people around you, and how they're searching for meaning in their lives. Once you understand what they're searching for, you can help them make connections between their needs and the fulfillment they can find in a relationship with Jesus. Talk with people that you meet in various places, and ask God to show you what good news would sound like to them. People who go to movies are looking for stories that move them, and Jesus connects them with the big story into which all people's little stories play a part: the story of God's redemptive work in the world. People who go to sports events are looking for a cause to belong to, and Jesus offers them a cause that can really change the world for the better. Rather than trying to get people to come to you to talk about faith, go to where they are and engage them in conversations about faith as you build friendships with them. Pray for the Holy Spirit's to guide your conversations and work in their souls to draw them closer to Jesus.
Recently on Spiritual Life
Have something to say about this article? Leave your comment via Facebook below!
advertise with us
Example: "Gen 1:1" "John 3" "Moses" "trust"
Advanced Search