How to Start Living to the Fullest
Whitney Hopler, Crosswalk.com Contributing Writer
Thursday, February 14, 2013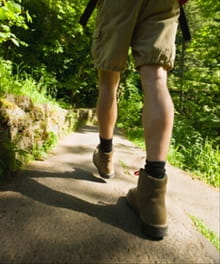 Editor's Note: The following is a report on the practical applications of John Siebeling's upcoming book, Momentum: Five Keys from the Lord's Prayer to Getting Unstuck and Moving Forward (Baker Books, 2013).
Do you feel spiritually stuck? The sense that something is blocking you from experiencing the abundant life God wants you to live can be frustrating and discouraging. But the keys to creating a forward momentum in your life aren't hard to discover – they're each part of the Lord's Prayer that Jesus taught to His disciples.
When you apply the principles within the Matthew 6:9-13 they can help you get unstuck and move forward into the life God intends for you, so you can reach your fullest potential. Here's how you can start living to the fullest:
Live a standout life that honors God. The first key is based on the part of the prayer that says: "Our Father in heaven, hallowed be your name." Choose to respond to God's greatness by living faithfully in obedience to Him – no matter what it costs you to do so – trusting that it's worthwhile in every situation. When you honor God, He will honor you by blessing you, which will propel your life forward in the right direction. Make your relationship with God your top priority, placing it at the center of your life and revolving everything else around it. Honor God with your finances by following biblical principles for how to manage your money (such as staying out to debt, giving generously to charities, and tithing to your church), and then God will give you what you need to keep moving forward in life. Honor God by participating actively in one of His houses – your local church – and God will send you direction, encouragement, and peace to move you forward spiritually. Honor God by respecting and loving the people He has made in His image, and God will work within your relationships with them to open doors of opportunity in your life. Evaluate the condition of your heart and address any heart conditions that need attention (such as a fearful heart, a distrusting heart, a doubtful heart, a selfish heart, a proud heart, a half-committed heart, or a faint heart that seeks to avoid challenges) by praying about them and inviting God to heal your heart so you can honor Him well.
Allow God to change you from the inside out through a process of renewal. The second key is based on the part of the prayer that says: "Your kingdom come, your will be done on earth as it is in heaven." Every day, pray for the Holy Spirit to renew your mind so you can approach each decision you make that day with an eternal perspective. Choose what's best for God's will to be done in every situation you encounter. Aim to see God's ways, authority, priorities, purpose, plans, and benefits at work as much as possible in your life, and in the lives of people whom you influence. When you let go of your own agenda, you invite God to move you forward into a future that's greater than what you can imagine. Ask God to help you develop and maintain a teachable spirit, a willingness to change, and attitudes of wonder, faith, trust, devotion, and gratitude – all of which will help renew you in ways that will keep you growing spiritually. Pay attention to the messages you're taking in from the people who speak into your life (such as friends and coworkers), as well as from media and popular culture. Pray for the ability to identify unhealthy and false thoughts that enter your mind so you can intentionally replace them with healthy thoughts that reflect biblical truth. Read, study, and meditate on the Bible often so that its life-giving words will soak into your mind, making it easy for you to think of biblical truth when you need to replace false thoughts with true ones. Let go past pain or bad habits (such as worry, destructive anger, lust, or an addiction) that may be preventing you from moving forward into the life God wants you to live now by cooperating with God throughout the healing process.
Recently on Spiritual Life
Have something to say about this article? Leave your comment via Facebook below!
advertise with us
Example: "Gen 1:1" "John 3" "Moses" "trust"
Advanced Search
Listen to Your Favorite Pastors