Don't Give God Your Life
Felicia Alvarez, Crosswalk.com Contributing Writer
Tuesday, December 03, 2013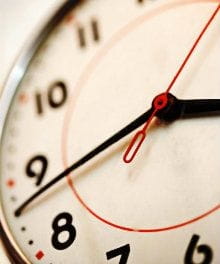 BANG! Bang!
I jolted awake. What is that sound? I peered through the curtains to see Steve hammering on some odd contraption in the yard.
Does that man ever sleep? It's six o'clock in the morning! And he was helping the kids with homework yesterday until after midnight.
This was my fourth day at the orphanage that Steve and his wife, Johanna, managed, and each day I grew more amazed at how much he worked. Literally from sunup to sundown, he was building, fixing, teaching, praying, and bandaging little knees. He was three times my age, but did more in one day than I did in a week. Seriously! And you know what was even more amazing? Steve had already memorized an entire chapter from the book of Isaiah in English—and was now memorizing it in Spanish!
If anyone didn't have time to memorize Scripture or read the Word daily, it was this man. Yet, he made it a priority to seek God. And you could see the love of the Lord flowing from him and sustaining him.
I was amazed.
And, I'll be honest, I felt a bit ashamed. I often said, "I'm too busy to spend time with God today. I'll get to it tomorrow or in a few weeks when stuff at work calms down." And here was a custodian of an orphanage—who was also a local pastor and teacher!—memorizing Scripture in two languages.
My excuses paled in comparison. The truth was I was lazy.
Sometimes we think that only "special" people—like pastors, scholars, and monks—should be committed to seeking God on a daily basis. But the rest of us, with our full schedules and hectic lives, should be exempt…right? We simply don't have that kind of time on our hands. Some day, if our schedules do line up perfectly, we'll be glad to commune with Christ more regularly.
But Jesus didn't say, "Follow me when it's convenient." He said, "Whoever serves me must follow me" (John 12:26). Such commitment is for everyone—not just for super Christians or people with perfect schedules! And, honestly, if Steve can find the time to commune with Christ, then surely we can too. Our lives are probably 90% easier than his!
But I wondered: What drove Steve to pursue Christ so fervently despite the pressing needs of his wife and 14 orphan children who called him "Daddy"?
A treasured relationship with his Heavenly Father.
The relationship started with Christ pursuing Steve (John 6:44), and through repentance and faith in Christ, Steve received a new life.
Steve loved Christ and he knew that to love Christ is to obey Him. But to obey God, you have to know Him. And to know Him, you have to spend time with Him. And that is why Steve ran after Christ: He knew that in the end "moths and rust" would destroy his earthly treasures, but what he did for Christ (knowing Him and making Him known to others) would last for eternity.
Knowing Christ does not happen by sitting in a room that has a Bible in it. It requires effort, sacrifice, and time. But as Christians, how can we not make time for the One to whom we owe our lives?
Many of us want to seek God, but actually doing it is a completely different story. Charles Spurgeon says, "Holy desires must lead to resolute action. Desires are seeds which must be sown in the good soil of activity or they will yield no harvest. We shall find our desires to be like clouds without rain, unless followed up by practical endeavours" (Charles Spurgeon Commentary of Psalm 27:4).
Have something to say about this article? Leave your comment via Facebook below!
advertise with us
Example: "Gen 1:1" "John 3" "Moses" "trust"
Advanced Search
Listen to Your Favorite Pastors