How to Inspire Your Daughter
Whitney Hopler, Crosswalk.com Contributing Writer
Friday, October 18, 2013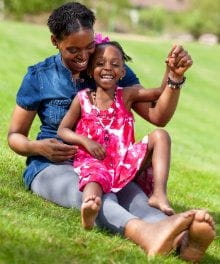 Editor's Note: The following is a report on the practical applications of Cindi McMenamin's new book, When a Mom Inspires Her Daughter (Harvest House, 2013).
As a mother, you have more God-given potential to inspire your daughter than anyone else has. The task can be quite daunting, though, because of the emotional challenges of a mother-daughter relationship, in which both of you are so alike and yet so different all at once.
Thankfully, with God's help, you can navigate those challenges well – even if your relationship with your daughter is currently rocky – and experience the joy of drawing closer to your daughter while helping her draw closer to God.
Here's how you can inspire your daughter:
Start with prayer. Ask God to give you the desire and wisdom to be the best mother you can be for your daughter from this point on. Pray for the Holy Spirit to work in your life and your daughter's life to help you both grow into the people God wants you to become. Then make it a habit to pray for your daughter often.
Understand yourself, your daughter, and your own mother better. Reflect on what your values are as a mom, and why. Study your daughter to learn more about what's important to her, and why. Consider how your relationship with your mother while you were growing up has shaped the way you relate to your daughter now. Ask God to help you heal from whatever your mother may have done to disappoint or hurt you, and to help you be at peace with your mother (or her memory, if she has already passed away), so you'll be free to make a fresh start in your relationship with your daughter.
Figure out what your daughter needs the most from you. Focus on giving your daughter the love and support that's crucial to her growth by: letting her know that she's a high priority in your life, helping her feel a sense of acceptance and a strong emotional connection with you, helping her build a solid spiritual foundation, allowing her to fail and make mistakes so she can learn from the experiences, serving as the best possible role model for your daughter by living with integrity and growing in holiness, and pursuing whatever healing you need to be emotionally stable so you won't burden your daughter with emotional loads God doesn't intend for her to bear. Most of all, aim to love your daughter the way that God loves you – unconditionally – and ask God to empower you to do so every day.
Use your words well. Keep in mind that the words you communicate (both through speaking and writing) contain great power to influence your daughter either negatively or positively. Ask God to give you the self-control you need to avoid criticizing your daughter unless doing so is absolutely necessary – and then, direct your criticism toward your daughter's behavior rather than toward your daughter as a person (just as Jesus hates sin but loves sinners). Pray for the help you need to develop a habit of building your daughter up with positive words. Take advantage of the many opportunities you have to use your words to encourage your daughter so she can bloom to her full potential.
Give your daughter the gift of your time. Intentionally make time in your schedule to spend time with your daughter often, because doing so lets her know that she is important to you, which is crucial to your relationship. Be willing to make whatever sacrifices you need to make to be able to spend as much time as you possibly can with your daughter. Look for opportunities to do something special with her (such as going on outings like concerts, lunches, hikes, and shopping, or participating in a Bible study together) and cut out distractions (such as by turning off your cell phone) when you're with her so you can truly listen to her when she shares her thoughts and feelings with you.
Have something to say about this article? Leave your comment via Facebook below!
advertise with us
Example: "Gen 1:1" "John 3" "Moses" "trust"
Advanced Search
Listen to Your Favorite Pastors