How to Inspire Your Daughter
Whitney Hopler, Crosswalk.com Contributing Writer
Friday, October 18, 2013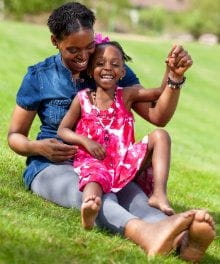 Take an interest in your daughter's world. Get to know all of the parts of your daughter's life and what they're like. Make sure you know her friends, as well as her friends' parents. Watch the movies and television shows she watches and listen to the music she enjoys. Ask her about school every day, and stay in touch with her teachers. Help her focus only on the extracurricular activities that she does best, and let the rest go so she won't be too stressed to be in optimal health (emotionally, physically, and spiritually). Ask her often for specific ways you can pray for her, and follow up later to ask how she'd doing in the areas about which you'd prayed. Whenever your daughter decides to talk with you about anything, get rid of distractions so you can listen carefully to her.
Encourage her to dream. Look for activities your daughter is most interested in and is particularly good at doing. Then encourage her to pursue those activities to discover and begin working toward God's dreams for her life. Pray often that God will align your daughter's dreams with His plans for her, and make those best dreams come true in her life.
Prepare her for life. As your daughter grows, teach her to be less dependent on you and more dependent on God. Make it your goal to help your daughter become a woman who will seek God's wisdom for her decisions, financially support herself, and be able to do the practical tasks necessary to manage all aspects of her life well (from completing household chores to maintaining her health). Teach her how to be self-controlled and pure, overcome her fears, deal with difficulties, and love others even in challenging situations. Affirm her uniqueness, femininity, and independence.
Choose your battles well. It's not worthwhile to argue about everything about which you and your daughter disagree; doing so will cause so much stress that it will significantly damage your relationship with her. Instead, carefully choose which issues are worth battling over by asking these key questions: "Is it illegal?", "Is it immoral?", and "Is it sinful?" If so, it's worth speaking up about the issue, but don't overreact and remain calm when discussing it with your daughter. If not (as in the case of personal preferences that differ between you), ask God to help you let it go.
Guide her spiritually. Ask God to help you become the kind of woman you want your daughter to grow up to become. Mentor your daughter spiritually be participating in church together, reading and discussing the Bible with her, praying with her, talking with her about how God is working in your life, modeling a life of faith in action for her (one in which you live with integrity and trust God in the midst of struggles), and loving her as God does: unconditionally.
Become her best friend as she grows up. When your daughter enters the teen years, start to make the transition from being her parent to being her best friend (which is the best relationship you can have with her once she reaches adulthood).
Adapted from When a Mom Inspires Her Daughter: Affirming Her Identity and Dreams in Every Stage of Life, copyright 2013 by Cindi McMenamin. Published by Harvest House Publishers, Eugene, Or., www.harvesthousepublishers.com.
Cindi McMenamin an award-winning writer and national speaker, is the author of When Women Walk Alone (more than 100,000 copies sold) and Letting God Meet Your Emotional Needs. As a pastor's wife, director of women's ministries, and Bible teacher, her passion is to bring women into deeper intimacy with God. Cindi lives in Southern California with her husband, Hugh, and daughter, Dana.
Whitney Hopler, who has served as a Crosswalk.com contributing writer for many years, is author of the new Christian novel Dream Factory, which is set during Hollywood's golden age. Visit her website at: whitneyhopler.naiwe.com.
Publication date: October 18, 2013
Have something to say about this article? Leave your comment via Facebook below!
advertise with us
Example: "Gen 1:1" "John 3" "Moses" "trust"
Advanced Search
Listen to Your Favorite Pastors