Happy Valentine's Day!
April Motl

April Motl is a pastor's wife who loves to laugh, loves her man, loves to talk on the phone entirely too long and most of all, loves her Lord. Collaborating with the efforts of her husband Eric, the two of them share a ministry dedicated to bringing God's Word into the everyday lives of married couples, men and women. April has been privileged through her own church and ministry outside her local body to share God's Word with women ranging in ages and stages, across denominations, and walks of life. April is a graduate from Southern California Seminary and has written for Just Between Us Magazine, Dayspring's (In)courage, and The Secret Place and also writes regularly for crosswalk.com, iBelieve.com and Women's Ministry Tools. For more information, visit Motl Ministries at: www.MotlMinistries.com

2017

Feb 03

Comments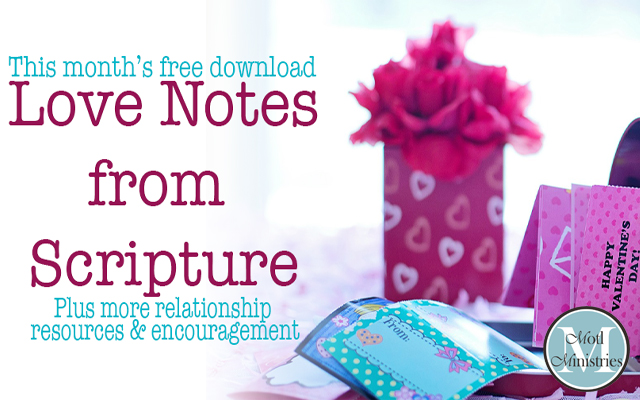 Happy Valentine's from us :) Personally, I love Valentine's Day! And not because it's a big deal to my hubby and me. For me, Valentine's is like an extension of Christmas. (Actually, I am mailing some Valentine's cards/gifts to the people I just didn't get Christmas greeting out to... annual cards and presents are still just as fun six weeks later, right?) Valentine's is an excuse to drop some Scripture and something sweet on your coworkers desk or at the neighbor's door (especially if you got too busy and didn't do it at Christmas!). It's a socially acceptable time to talk about love - and that means talking about Jesus! It's also an easy time to recount the things you are thankful for in your loved ones. So, to share a little love with our readers, we've got something special for you:
Love letter from Scripture (Free printable with verses strung together to remind you or those you love about God's love over you.)
Love Notes from Me & God's Word (Free printable with notecards that use Scripture to remind someone you love about how much God loves them.)
Candy Wrappers (Free Printable that plays with the names of candy bars. Fun for your family.)
Valentine's Place Cards (Free printable for a fun friend luncheon)
20% off code for Waiting for God's Match (Audio message encouraging singles to seek the Lord and His best for their love life.)
Sign-Up for our monthly email newsletters to get these fun freebies sent to your inbox! Click here for a Valentine's facebook cover :) These resources will be available through the end of February only.

For more encouraging resources, follow us on facebook, twitter, or pinterest, or sign up for monthly e-newsletters.
---
---