Pick of the Week: House of Worship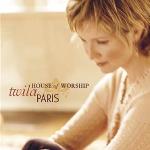 CD: House of Worship
Artist: Twila Paris
Label: Sparrow
Quote: "I love the fact that these songs have been born in this season in which God has been reigniting a passion for worship in His people —preparing us for something. I pray that more than ever God will lead each of us into a place of true worship, that we will encounter His presence and power and that His desire will be accomplished in us."
FYI: Many of these songs have been written "along the way." While working on other projects, Twila would save these worship songs with hopes of someday releasing a project like this. Her main goal is to worship God herself, and then to help facilitate worship in the body of Christ by leading in worship and by writing songs that can be offered in worship.
The Bottom Line: Produced by Brown Bannister, this is Twila's latest collection of brand new worship songs. After sixteen albums, numerous #1 radio hits, and multiple Dove awards (including Female Vocalist of the Year 1993-5), Twila returns to what people love about her the most: songs that lead people into worship. Simple and glorious at the same time, these new tunes are perfect for the church body. Together with her Sanctuary project (1992) and Perennial (1998), House of Worship completes a must-have worship trilogy for any listener.
Featuring: Eight new songs including "God of All," "Glory and Honor" and "Make Us One," as well as new recordings of "We Bow Down" (from 1984's The Warrior Is A Child), and "We Will Glorify" (from 1982's Keepin' My Eyes On You).
Pricecheck or buy this album from Songs4Worship.com!
--Mark Smeby