Coble Delights with Final Mercy Falls Installment
Kelley Mathews

kelleymathews.com

2011

6 Jun

COMMENTS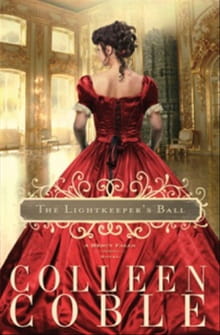 Author: Colleen Coble
Title: The Lightkeeper's Ball
Publisher: Thomas Nelson
At the dawn of the 20th century, Olivia Stewart is heiress to an empire—but only in name and reputation, for her family's wealth has nearly disappeared. One of the Four Hundred— those considered the wealthiest and most distinguished in America—the Stewarts' security now rests solely on their daughters' marrying well.
Olivia's sister, Eleanor, was engaged to Harrison Bennett, heir to a very wealthy family, but the recent report of her sister's death changes Olivia's future. Under pressure to take Eleanor's place, Olivia travels to Mercy Falls, California, using her long-forgotten title, Lady Devonworth, to investigate her sister's death and learn more about Harrison before committing to marriage. There she finds that Eleanor died under suspicious conditions.
Circumstances point to Harrison's guilt, if not directly then at least by association. But the more Lady Devonworth gets to know him, the less she wants him to be guilty. He is not the man she thought he would be. Soon after they meet, she wonders what secrets he harbors and if she can trust him. Soon enough those wonderings become, "What will he do when he learns my true identity?"
The twists and turns of this suspenseful mystery come together at the Lightkeeper's Ball, Olivia's charity masquerade organized to raise funds for Mercy Falls's new lighthouse. There, secrets—and truths long hidden—are revealed in a stunning conclusion few, if any, will see coming.
Suspense author Colleen Coble continues to delight with this final installment of the Mercy Falls series. Fans will enjoy seeing Addie (The Lightkeeper's Daughter) and Katie (The Lightkeeper's Bride) reprised as Olivia's new friends. Olivia herself is a less than perfect heroine, with a strong and forward-thinking disposition, which—given the social expectations of a woman of her station—gives rise to considerable conflict. Harrison proves to be well-rounded, a character with charm and likeability, but also with annoyances and self-image issues.
Coble pairs these believable characters with suspenseful situations. Her strong feel for the time period and geographical settings add depth to the story. She's done her research—whether talking about the New York social scene, black diamond mining in Africa, lighthouses, or the early days of aeroplanes. Each of those topics play important roles in the story, and characters who can converse intelligently on them contribute to a substantial, entertaining, multi-plot novel.
Underneath the intriguing plot of "How did Eleanor die and what does that mean for Olivia?" is a substantial subplot in which Olivia and Harrison investigate their own spiritual dilemmas. Each must deal with emotionally-closed and socially-bound parents. Both must determine if they can live with the repercussions of failing their families. Does God's love demand certain behaviors from them, or is his love truly unconditional?
Already well-known for her contemporary suspense novels, Coble has proven her ability to blend intrigue with historical settings in a believable, realistic way. Readers of both genres win with the Mercy Falls series.