God Cares for Me - Book Review
Whitney Hopler

Crosswalk.com Contributing Writer

2003

20 Feb

COMMENTS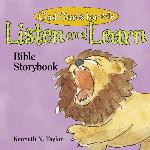 Author:       Kenneth N. Taylor
Illustrator:  Shelley Dieterichs
Publisher:   Tyndale Kids
Since young children learn best when they're interacting with their environment, a book that gives them a way to do more than just listen passively is always welcome. God Cares for Me Listen and Learn Bible Storybook provides a fun way for children ages 0 to 5 to participate actively as an older person reads to them.  Each Bible story contains a signature sound (such as the sound of rushing water for the story of God parting the Red Sea) that children can hear whenever they push a button on the bottom of the book.  The sound buttons correspond to pictures inserted throughout the text as cues for the little ones.
God Cares for Me Listen and Learn Bible Storybook presents seven Bible stories quite pleasantly, with simple, matter-of-fact text geared toward the youngest children and colorful, expressive illustrations.  But the stories don't seem to have been chosen around any particular theme.  They're about evenly divided between miracle stories (such as the tale of Daniel in the lions' den) and comforting stories (such as the account of Jesus welcoming little children to Himself).  The book would be more effective if the stories all communicated the same basic message to young children.
Also, although the sounds are riveting and it's a great idea to include them, some of those sounds (like the roaring lion and thunderstorm noise) may prove too intense and scary for children at the younger end of the book's target audience.
Get 1 Christian Bestseller for FREE, plus FREE shipping.  Click here for details.