"How to Find Selfless Joy in a Me-First World" - Book Review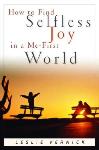 Author:      Leslie Vernick
Publisher:  WaterBrook Press
Looking for joy and fulfillment? Our culture says you need more self-love and better self-esteem. However, Leslie Vernick gives a different answer. Her latest book, "How to Find Selfless Joy in a Me-First World," reminds us of Christ's strategy for true and lasting joy: deny self, love God and serve others.
Peppered with Scripture references, practical advice and personal application, Vernick's book is ideal for individual devotional reading. A study guide in the back facilitates small group study as well. Both convicting and encouraging, Vernick's straight-to-the-point writing will help reveal your innate me-first habits and answer questions about fulfillment and happiness.

© 2003 CCM Magazine.  All rights reserved.  Used with permission.  Click here to subscribe.