"Reading the Bible for the Love of God" - Book Review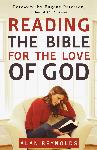 Author:     Alan Reynolds
Publisher: Brazos Press

In "Reading the Bible for the Love of God," pastor/author Alan Reynolds encourages readers to lay aside their dogmas, church denominations, literal or liberal hermeneutics or any other hang-ups when it comes to reading the Word. Then, he encourages readers to approach Scripture by simply seeking God's agape love.

Fruitful and fulfilling relationships with God and others in one's life, Reynolds advocates, are the evidence of understanding this divine, unconditional love. Throughout these 150 pages, Reynolds relays insight from theologians of the ages, as well as from his personal testimony to illuminate what The Wesminster Confession calls man's chief end: "to glorify God and enjoy Him forever."

Reynolds explores biblical battles, such as the debate over evolution vs. creation and issues of cultural relevance that, while important in shaping one's biblical perspective, often shift one's focus off his or her personal relationship with God.

Effectively guiding the reader from seeker to participant in God's Word, Reynolds instructs the reader in deeper ways to respond to the Word through prayer and corporate worship.

Theologian Henri Nouwen, often quoted throughout this text, said: "The question is not 'How am I to love God?' but, 'How am I to let myself be loved by God?'" "Reading the Bible for the Love of God" is a great starting point for those asking the question.

Copyright © 2003 CCM Magazine.  All rights reserved.  Used with permission.  Click  here to subscribe.

Get 1 Christian Bestseller for FREE, plus FREE shipping.  Clickhere for details.