Rex Tells an Inspiring Story of Courage and Faith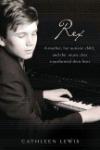 Author: Cathleen Lewis
Title: Rex: A Mother, Her Autistic Child and the Music that Transformed Their Lives
Publisher: Thomas Nelson
When Cathleen Lewis, a former fashion model and financial trader, learned that her newborn baby, Rex, had a cyst on his brain, she was shocked. Doctors were able to drain the cyst, but six months later, Lewis learned that her son was blind. Two years later, he was diagnosed with autism, and the cyst returned.
One of the ways Rex's autism expressed itself was an extreme sensitivity to sound and touch. The young boy became hysterical, for example, upon hearing rain or a ringing telephone. He refused to grasp objects—even his meals. Unless someone smeared pureed food on his lips, he consumed very little.
During this time, Lewis took care of Rex, with little assistance from her husband, who struggled to maintain a bond with his wife and child. When the strain contributed to their divorce, she became Rex's sole caretaker. She also began questioning God and attending church for the first time. Soon, after hearing the gospel from her brother, Lewis came to a saving faith.
In the meantime, blessedly Rex discovered music and, thanks to a gift from his father, the piano. Even at the age of two, he would stand for hours, pecking out notes. To Lewis' surprise, neither the sounds of those notes nor the feel of the keys caused Rex any angst whatsoever. Before long—amazingly, those notes had morphed into the melodies of Mozart, Chopin and Wagner. After a few more years, it was clear to everyone that Rex was a musical savant.
According to his bio, Rex has since been the subject of numerous documentaries, including Britain's popular series Extraordinary People; a Swedish documentary called Another Kind of Genius and "Musical Savants" on The Discovery Health Channel. When he was eight, 60 Minutes did a segment on him, followed by a sequel, two years later. Last month, they produced a follow-up, in conjunction with the publication of the book—which has been optioned by Lifetime Television.
Lewis is not a professional writer, but she tells her story with winsome. Sometimes, she even employs a poetic phrase or two, elevating it to a better-than-usual quality. Her narrative moves slowly, however. She has a tendency to dwell on her feelings in excruciating detail—sometimes for pages at a time—which bogs down the pacing. It also detracts from Rex. As such, it reads more like a memoir about Lewis' experience as the mother of an autistic child, than the story of the young genius.
Rex's journey is interesting one, nonetheless, and many will admire both his and his mother's courage against all odds, as well as the story of their faith. It's an inspirational tale likely to appeal to parents of autistic children and budding musicians.