The Hope Diamond of the Bible: Lucado Explores John 3:16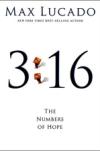 Author: Max Lucado
Title: 3:16 The Numbers of Hope
Publisher: Thomas Nelson
If you grew up in church, chances are one of the first verses you learned was John 3:16: "For God so loved the world that he gave his one and only Son, that whoever believes in him shall not perish but have eternal life" (NIV). It's simple, and we're so familiar with it that we may have forgotten how beautiful it is—"the Hope diamond of the Bible . . . a twenty-six word parade of hope … heart-stilling, mind-bending," as Max Lucado describes it. [p. 8-10]
Lucado, who's sold an incredible 50 million books, dedicates his latest to plumbing the depths of this verse, reminding us of its wonder and explaining it for those who may not know it well. He begins with the story of Nicodemus sneaking out to see Jesus by night, trying to understand what salvation entailed—which led to the conversation where Jesus speaks John 3:16.
Each chapter delves into a different aspect or a different word—so God's love is explored, and the significance of Christ being his "one and only Son," along with the reality and hope of eternal life, and what it means to believe. Lucado emphasizes the "whoever" nature of the verse and of salvation—that it's open to "whoever believes." And the great thing about this book is that it's approachable to whoever's reading, whether they have any experience in church or not.
It may seem like overkill to do an entire book on this one verse, but Lucado uses each word or phrase as a jumping-off point to explore the biblical theme in greater detail. To balance the one-verse emphasis, there's a wonderful 40-day devotional at the end of the book that covers the entirety of Jesus's life, with excerpts drawn from many of Lucado's books.
There are difficult topics here—including a chapter on hell—but Lucado addresses them with his trademark forthright grace. He doesn't avoid them, but he speaks truth in as gentle a way as possible, with love. As readers will expect, he's personal here and there's simple poetry in his writing. "Christ claims ultimate clout," he says. "He steers the ship and pilots the plane. When he darts his eyes, oceans swell. When he clears his throat, birds migrate. He banishes bacteria with a single thought. 'He sustains everything by the mighty power of his command' (Hebrews 1:3 NLT). He is to history what a weaver is to tapestry." [p.53]
3:16 The Numbers of Hope releases on September 11, with the goal that these numbers of hope will appeal to many struggling with hopelessness on 9/11. Lucado offers a clear and simple statement of the gospel which will likely be needed good news for many, and a reminder for others of the beauty of the gift of salvation.