"Brother, Sister" Proclaims Battles of Faith, Ethics
Dave Palmer

CCM Magazine

2006

19 Dec

COMMENTS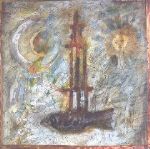 Artist: mewithoutYou
Title: "Brother, Sister"
Label: Tooth & Nail
mewithoutYou's new album, "Brother, Sister," continues the singular sound the band has developed over the course of their three full-length recordings.
Evoking the spirit of wild-eyed Old Testament prophets, singer Aaron Weiss engrosses listeners with a spoken-sung cry that proclaims and exhorts both the personal and the public battles of faith, ethics and discovery. The band accompanies the cry of the prophet with musical precision to match Weiss' vocal imagery.
From the opening strains of "Messes of Men" to the closing "In A Sweater Poorly Knit," "Brother, Sister" propels forward as a body of work as good at track 13 as it is at track one.
Pounding and thrashing on songs such as "WOLF AM I! (and Shadow)" and "In A Market Dimly Lit," the band moves to zig-zag guitars and oblique lines of "A Glass Can Only Spill What It Contains" and "O, Porcupine" with equal ease and facility. Even in the hushed guitar and accompaniment ranging from accordion to brass or harp in a spider trilogy of interludes naming different colored spiders (yellow, orange and brownish to be specific), mewithoutYou is a band in complete control of its abilities and expresses them to stunning effect.
Lyrically, the album cuts a wide swath of subject matter that is devotional, confessional and vivid in its ability to connect emotion to creation and Creator. The band has always worked out its salvation in artfully direct phrasing. In "The Sun and the Moon," Weiss sings as though whispering to the Divine, "I used to wonder where you are/ These days I can't find where you're not!" while "C-minor" offers a plaintive call with his chorus backing him, "Open wide my door, my Lord, to whatever makes me love You more."
References to prophets, saints and sinners abound, with startling clarity and imagery that are as personal as they are universal, no mean feat for any writer.
mewithoutYou inhabits the rarified space of bands such as Arcade Fire or TV On The Radio, who, while sounding utterly different, evoke similar feelings of grandeur from the often limited starting point of "indie rock." "Brother, Sister" is an example of the possibilities when bands stretch themselves without trying to prove anything.


© 2006 CCM Magazine. All rights reserved. Used with permission. Click here to subscribe.



Watch Mewithoutyou music videos at Godtube.com.