"Fields of Grace" - Music Review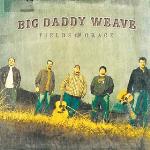 Artist: Big Daddy Weave
Label: Fervent Records
With catchy lyrics and a captivating blend of guitar, drums and those signature saxophone touches, Big Daddy Weave has outdone itself with its sophomore album, "Fields of Grace."
What makes "Fields of Grace" remarkable is that it demonstrates the growth and cohesiveness of the band from both a musical and ministry dimension. The group's sound intertwines a poignant message with a diverse range of highlights, including the vibey "Set Me Free," the engaging title track and the worshipful splendor of "Heart Cries Holy."
But more than just an enjoyable soundtrack, there are intriguing questions that pervade "Fields of Grace" — particularly on the second track, "Why." In the chorus, co-producer, lead vocalist and primary songwriter Mike Weaver asks, "Why do I do all the things that I do, when I want to do what is right?" Soul-searching musings are what really set this energetic effort apart.

© 2003 CCM Magazine. All rights reserved. Used with permission. Click here to subscribe.

Watch the latest Big Daddy Weave music video on their official artist page at Godtube.com!