Jamie Grace Spreads Her Wings for Sophomore Effort
Lindsay Williams

Crosswalk.com Contributing Writer

2014

14 Mar

COMMENTS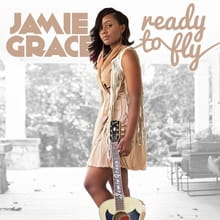 Artist: Jamie Grace
Album: Ready to Fly
Label: Gotee Records
Jamie Grace felt like a breath of fresh air when she released her debut in 2011. TobyMac originally discovered her on YouTube and signed the budding songwriter to his boutique label, Gotee Records. He joined her on her first radio single, "Hold Me," and the Atlanta-native quickly became one of Christian music's most celebrated new artists.
For her sophomore offering, Ready to Fly, Grace proves her debut was far more than a fluke or a short-term phenomenon. Produced by Christopher Stevens (TobyMac), David Garcia (Britt Nicole), Dave Wyatt (DiverseCity Band) and Chuck Butler (Royal Tailor), her second album builds on the effervescent pop introduced on her first project, but showcases a slightly more mature viewpoint.
The distorted prelude, "So Amazing," divulges her mission quickly: "I wanna write the songs that make the whole world sing along," she croons. It flows straight into the sunny first single "Beautiful Day" where the lyrics aren't exactly thought-provoking, but the melody proves breezy. When thrust into an illustrious group of skilled songwriters as she often is, it's easy to forget she's only 22 years old. However, Grace shows her age by launching into "Just a Friend," which features a spoken-word bridge from Group 1 Crew's Manwell. While the relational theme of wanting to be more than "just a friend" with a crush is a relatable subject, lyrics talking about her new "sweet" shoes and backpack and watching episodes of "Reba" with her mom remind older listeners she's not that far removed from high school.
It's on tracks like the story-filled, emotive ballad "Fighter" and pop gem "To Love You Back" where Grace belies her youth and reveals the true depth of her songwriting abilities. (An acoustic version of "Fighter" closes the CD and features soulful vocals from Jason Crabb.) "The Waiting," co-written with Natalie Grant, also offers a poignant view of seasons that test our patience.
The funky sing-a-long "Little Ol' Me" and the large "Do Life Big" showcase her creativity and the unique sonic sounds she brings to the table, all wrapped around memorable lyrics like, "I wanna learn, serve and give every day I live / I wanna do life big."
The biggest pleasant surprise comes in the form of "White Boots," a full-on country pop duet with Grace's sister, Morgan Harper Nichols. The siblings give Miranda Lambert and Carrie Underwood a run for their money in a song about purity free of clichés.
The title track closes the project with a sweet coming-of-age ballad dedicated to Grace's 11-year-old fan named Avery who was tragically killed in a car accident in 2012.
Ready to Fly serves up equal parts fun and substance that provide a cheerful listen from start to finish. Grace's fans seem to be growing up with her, and she's taking them on a beautiful, carefree ride.
*Published 3/14/14