Listener Left Wanting More From Dizmas' "Search in America"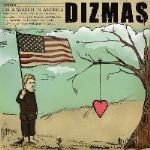 Artist: Dizmas
Title: "On a Search in America"
Label: Credential
After listening to Dizmas' "On a Search in America," it's hard to get away from the nagging impression that this California group is still a work in progress.
There are plenty of appealing musical elements here, mind you, including singer Zack Zegan's Axl Rose-esque scratchy vocalisms and the band's extra- crunchy hard rock. But the individual songs themselves sometimes add up to sketched ideas, rather than complete thoughts, leaving the listener wanting and needing just a little bit more.
To its credit, Dizmas gives its songs attention-grabbing titles. Unfortunately, teasers such as "Revolution," "Controversy" and "Riots and Violence" fail to become the epics suggested by their names. For instance, it's nearly impossible to figure out just what this "Riots and Violence" couplet means: "Riots and violence!/ Thanks for the rainbow." Huh? The group is much more effective when dealing with simpler, more straightforward messages, such as those expressed through "Redemption, Passion, Glory." "This is redemption/ That you would die for me/ And this is salvation/ That you would live in me."
The band's musical style is akin to Kutless, yet it shares the artistic ambitions of much more adventurous bands such as P.O.D. While Dizmas has the potential to grow far beyond being just another vanilla, hard-rock outfit, it must first learn how to combine its raw emotion and well-developed musical skills with equally admirable lyrical ideas. Instead of writing down a few vague thoughts and calling that a song, Dizmas needs to tell stories and dig deeper into the songs' subject matter.
These criticisms aside, Dizmas is one hard rock band that mostly uses its noggin for thinking, instead of mindless head banging, a positive trait that makes it one band to keep your eye on.

© 2005 CCM Magazine. All rights reserved. Used with permission. Click here to subscribe.



See the latest Dizmas music videos at Godtube.com!