"Offerings II: All I Have to Give" - Music Review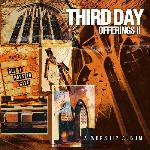 Artist:   Third Day
Label:  Essential Records

With nearly identical cover art and a similar mix of live and studio songs, Third Day's "Offerings II: All I Have to Give" is begging for comparisons to the band's wildly successful 2000 worship release, "Offerings." But while this disc offers the same reverential intent, it never seems to sustain the inspired song craft and electrifying performances of its progenitor.

Sure, there are sparks of brilliance. The band rocks the late Rich Mullins' "Creed" with exuberant abandon. It also expertly weaves "Give" and "Turn Your Eyes Upon Jesus" in a medley with U2's "With or Without You." And a cover of "God of Wonders," with guest Michael Tait of dc Talk on harmonies, will perhaps go down as the definitive version.

However, the studio cuts and other cover song choices are less interesting. The first Offerings had the left-field delight of Bob Dylan's gospel-boogie "Saved" and a majestic cover of "These Thousand Hills" by Jacob's Trouble. This time around, the band opts for Waterdeep's comparatively bland "You Are So Good to Me." Meanwhile, live versions of "Come Together" material yield few revelations, and a handful of new songs are fine but nothing stellar.

Ultimately, "Offerings II" is a worthwhile companion to the first album, but certainly not its equal. 
Used by permission.  CCM Magazine © 2003  Click here to subscribe.