One to Watch: Duvall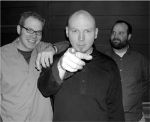 To Be or Not to Be ... a Mainstream Band
Have you ever prayed for the salvation of the members in your favorite mainstream band? Well, keep praying. Duvall's Josh Caterer (guitar and vocals) is proof that God answers those prayers. During the '90s, Josh and his brother, Eli (Duvall's bass player), were part of Chicago's own Smoking Popes. The band developed a significant following, released two albums on Capitol Records and toured with such artists as Foo Fighters and Morrissey.
Then Josh had a conversion experience in 1998 that brought "a complete change in my understanding of life." After finding that it just wasn't working to incorporate his faith into the Popes music, he left the band and spent some years growing in the church and playing music there before forming Duvall. The band's debut full-length album, "Volume & Density" (Asian Man), released in late 2003.
Many of the Popes' fans have followed the Caterer brothers to Duvall. Josh has been surprised to find that a lot of those fans are Christians, and some of them were praying with their friends for his salvation when he was in his former band.

CCM:  Where did the name Duvall come from?
Josh:  "The Apostle" is my favorite movie. I wanted to name the band after Robert Duvall because of his performance in that film.
CCM: How would you describe your music?
Josh:  It's guitar-driven, melodic power pop.
CCM: What's the biggest difference between Duvall and Smoking Popes?
Josh:  The main difference is lyrical. As far as the sound and the style, I think we picked up right where the Popes left off. I didn't leave the Popes because I was unhappy with the sound. It was because I wanted to make music for the Lord.
CCM:  With regard to faith and music, how would you categorize Duvall?
Josh:  I consider us a Christian band. The Christian content of our stuff is pretty obvious if you listen to it. We mention Christ but not in every song.
CCM:  Is there a song that you feel especially accomplishes or captures just what you want?
Josh:  The last song on the album is called "Jesus Never Leaves Me."  People who aren't Christians themselves find it moving. I've been really excited about that. That song seems to be something God has used to touch people in a particular way that I'm really grateful for.

© 2004 CCM Magazine. All rights reserved. Used with permission. Click here to subscribe.