Ones to Watch: Cross Culture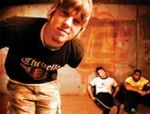 Cross Culture is a wonderfully eclectic band originally from Columbus, Ohio. The group correctly describes itself as "energetic, deep and intricate" and after independent success, signed to John and Dino Elefante's new label Selectric Records. Cross Culture's label debut, "Proof Positive," mixes standard rock with dashes of funk and Latin rhythms.

Featuring Justin David (lead vocals/guitar/bass), Dan Harrass (guitar/vocals) and Chris Wright (drums/vocals), the band – as evidenced by its name and sound – intends to cross boundaries and convey the life-changing message of God's truth and love to listeners everywhere.
Paul:  What is your band's mission?
Justin:  The real drive behind our music is to make a stand and separate ourselves by example. ...We make a concentrated effort to admit that although life brings its failures and ups and downs, there is something worth living for, and striving for greatness is never a dying cause. Through our lyrical direction we speak of hope in the midst of defeat, becoming greater than the education system of modern day America warrants us to become, finding a cause and direction for life in general and having a good time while doing it.
Paul:  What's the idea behind "Proof Positive"?  
Justin:  Throughout anything that life decides is worth your time, there is one unending truth. The evidence to disprove Christ and His validity has never been but a vapor derived from the hearts of men. The solidity of the Bible and its teachings are unchanging and unwavering. This alone is proof, but proof enough comes from the love shown at the crucifixion. He is positively "all the proof I need."
Paul:  If you could only play one song from your new record at a gig, what song would it be?  
Justin:  The one stand alone song on this record that has the most personal and direct message of what we are about is our first single, "Extraordinary." Although it is tame in comparison to other intricate and involved songs on our record, its screams of emotion and the energy find a unique moment throughout this song live.

Singer/songwriter/author Paul Colman is the former front man for GRAMMY-nominated and Dove Award-winning act Paul Colman Trio. His first solo project in seven years, "Let It Go" (Inpop), released last year to critical acclaim with its "Gloria" single going No. 1 at Christian radio in his home country of Australia for more than 16 weeks. Colman currently tours, speaks and performs internationally. For more information visit PaulColman.com.
    


© 2006 CCM Magazine.  All rights reserved.  Used with permission.   Click here to subscribe.