Point of Grace Goes Country on No Changin' Us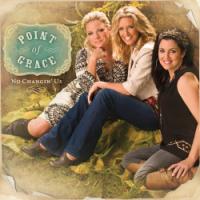 Artist: Point of Grace
Title: No Changin' Us
Label: Word Entertainment

Pop superstars convert to country …

Only two original members remain, so perhaps things aren't as they used to be. Still it's difficult to believe they actually changed the formula that worked so well. When 27 No. 1 singles and over six million albums sold on the resume, you usually never see someone mess with a good thing, yet that's exactly what's happened on Point of Grace's latest, No Changin' Us. Fortunately, the move pays off in spades.

There were tinges of the girls' pending changes with 2008's "How You Live" finding success on the country charts. Those signs of life pointed the way for this future direction, bringing on super-producer Nathan Chapman (Taylor Swift's Fearless) and unleashing the Nashville machine on all 11 tracks on No Changin' Us. From suddenly truncated verb endings (see title) to enhanced accents to pedal steel, the girls have officially gone country.

Yet with voices this good, they could sing the phone book and make it work. "He Holds Everything" is the up-tempo highlight, bringing the popular Lady Antebellum or Sugarland sound from the outset. "Love and Laundry" is a bit surprising for the lyrical turns it takes, but even this weakest track still holds some Southern charm. In between are memories and maxims of family and faith, and Chapman does a good job transitioning the girls to the new sound.

Some long-time fans might have issues with dashed expectations, but chances are most will come along for the ride while the new sound should garner several new fans as well. It's a good risk if you have to take one, although we'll only know it works if the next album follows suit—or goes back to the old pop standards.




© 2010 CCMmagazine.com. All rights reserved. Used with permission.

**This review first published on April 22, 2010.