BarlowGirl Aims Higher with Love & War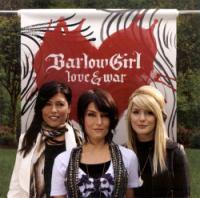 Artist: BarlowGirl
Title: Love & War
Label: Word Entertainment
Sis-rock act aims higher than ever …
The sis-rockers known as BarlowGirl refuse to rest on their laurels, and it's been that way from the outset, when early success met the Illinois-born trio on their 2004 self-titled debut.
In the five years since, they've performed on The Today Show, toured with MercyMe and Switchfoot and sold more than one million albums. So what's a hit pop/rock group to do next? Precisely, create their strongest album to date.
Love & War, the girls' third studio release, jumpstarts with "Come Alive"—a frenetic rock track pulsing with the perfect amount of energy. The siblings harmonize over lyrics like "A life that holds no meaning is like a day without the light/So come alive tonight" while guitars and drum kit move the crowd, giving the album its signature song from the get-go.
Lead single "Beautiful Ending" finds an early piano lead and moves gracefully across familiar BarlowGirl builds and harmonies. Reminiscent of Eisley, the song displays the girls' strong melodic sense. "Our Worlds Collide" brings things down a notch with a string arrangement and a heaven-meets-earth love story.
"Love Is Marching" combines the album's title elements and also features strings that pull it together admirably, serving as a highlight track midway through the album. "Sing Me a Love Song" and the abortion-focused "Tears Fall" lend a strong emotional resonance to the record's end, before "Hello Sunshine" gives a buoyant farewell.
Adding to a long line of successes, BarlowGirl seems primed for greater things than ever with their most arresting work to date.

© 2009 CCMmagazine.com. All rights reserved. Used with permission.

**This review first published on September 17, 2009


Watch the latest Barlow Girl music videos at their official Godtube.com artist page!