Sanctus Real Puts up Good Fight in Sophomore Release
Jay Swartzendruber

2004

18 Aug

COMMENTS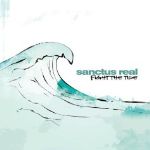 Artist:   Sanctus Real
Label:   Sparrow
Impressively produced and mixed by Tedd T (Delirious, Stacie Orrico), "Fight the Tide" is a noticeable improvement in practically every way over Sanctus Real's 2002 debut.
Though "Say It Loud" connected with more than 30,000 fans, the album portrayed a group that was very much "up-and-coming," from the promising songwriting to its members' often unimaginative, rough-around-the-edges studio work. And with the exception of one acoustic-based track, every song presented was a standard rock number. That was then.
Simply put, each song on "Fight the Tide" is better than the best of "Say It Loud." Lead rock single (and opening track), "Everything About You," serves notice that this is a whole new ball game. From the start, "Fight" boasts the same stylistic foundation as the debut, but here the band embraces more prevalent European rock elements and makes capable forays into reggae-rock ("The Show"), pop-punk ("Message") and vulnerable serenading ("Change Me," "Say Goodbye"). Now, the Toledo, Ohio, act sounds more like a band that did, indeed, form eight years ago and has been regularly playing live ever since.
Lead singer Matt Hammitt and guitarist Chris Rohman once again tackle the majority of Sanctus Real's songwriting duties. But this time around the duo shows a consistent knack for crafting extremely melodic hooks. Lyrically, poetically clear expressions of faith abound.
Hammitt's vocals — the band's most distinct quality — are significantly more authoritative, versatile and emotive, whether he's brooding or kicking into a beautiful falsetto. In the third track, "Alone," Hammitt even unveils his first (but not last) power-rasp delivery, singing, "You are not alone/ Know that I would fight the tides to be together" — a vocal feat that could no doubt earn a complimentary wink from Aerosmith's Steven Tyler.
Rohman, meanwhile, plays lead in the truest sense of the word, whether driving the songs with muscular, thick riffs or scaling tonal walls with apparent ease. Drummer Mark Graalman and bassist Steve Goodrum? The epitome of tight. The team consistently creates a rhythmic foundation that makes Hammitt's and Rohman's jobs that much easier.
While one gets the impression that Sanctus Real is still discovering itself, with "Fight the Tide" the foursome takes a significant step toward becoming a great band. The more you hear, the brighter its future looks.

© 2004 CCM Magazine.  All rights reserved.  Used with permission.  Click here to subscribe.