The World's Not Enough for Playdough on "Water"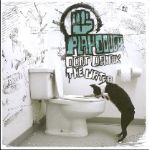 Artist:  Playdough
Title:  "Don't Drink the Water"
Label:  7SpinMusic
If you're a little confused by the name – normally a grubby substance squished between a three-year-old's fingers – or the jacket art – which depicts a grafitti-strewn bathroom with a dog poised to lap out of the toilet (and other thematic elements such as a toilet paper roll and faucet) – you're not alone.
Who is this guy? Oh yeah, it's Doug Krum, the dope underground emcee who fronted the Uprok Records group Ill Harmonics and released his debut solo project, "Lonely Superstar," in 2002. You know, the white guy in the hoodie.
"Don't Drink the Water," Playdough's sophomore effort, can be translated:  Don't be satisfied with what the world has to offer. Displaying impressive lyrical agility and confirming his reputed genius behind the mic, the Texas wordsmith raps about materialism and the dangers of being a follower, demonstrating a keen social awareness that flies in the face of his mainstream contemporaries.
For example, the track "You Sound Funny" boasts a catchy sample – the warbling of an antiquated gospel singer – and cuts to the quick of the rap industry's materialism. "It's all about money, cars and clothes … your rap sounds funny," Playdough says succinctly. "Your raps make me giggle."
The obvious single is "Emergency Broadcast," which belongs in the club with its grinding guitars and fat bass-line. The funky "Sandal Sole" follows close behind with a memorable guest appearance by Kevin Max.
On other tracks, such as "Dang!," we find Playdough singing his own praises – "It's hard to holster all that I bolster/ I'll write a paragraph autographing posters." A little self-confidence is good. But isn't it as yawn-worthy as money and bling-bling? Playdough should assign his creativity to more interesting topics.
Overall, it's a playful conceptual record filled with fresh rhymes, somewhat inexplicable samples and the occasional irresistible hook. One caution: You know how Eminem's voice can give you a headache? Likewise, Playdough's slightly nasally voice can wear on you over a jarring composite of beats and samples. 



© 2006 CCM Magazine.  All rights reserved.  Used with permission.   Click here to subscribe.