TobyMac Brings More Attitude, Extra Juice to Tonight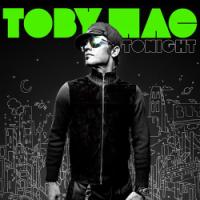 Artist: TobyMac
Title: Tonight
Label: Forefront

The Mac is back …

Very few performers have the ability to co-front a seminal group and then be equally influential in solo territory, but TobyMac is indeed an anomaly. Outside of a genre-bending role in dc talk, his solo career's ascended with every album released thanks to his ageless ability to keep a finger on the pulse of pop culture and craft some of the most catchy beats and rhymes of the past two decades.

On this follow-up to the triumphant Portable Sounds, Mac skillfully combines that veteran experience with youthful enthusiasm, channeled once again through his remarkably consistent rap/hip-hop/alternative rock aura, but with some extra juice and more attitude than ever before. Anyone who caught an early glimpse of the single "City On Our Knees" can attest to its immediate infectiousness, though tracks like "Get Back Up" and "ShowStopper" are easily rivalable singles.

Besides the bounce-heavy solo cuts sung over a rhythmically robust band, the record is peppered with several prominent collaborations, starting with what's arguably this year's most anticipated duet. Mac teams with tour mate John Cooper of Skillet fame for "Tonight," a monstrous rap/rocker that will seriously blow the roof off of any stadium they visit this spring.

Other joyful tag teams include the piano pop-tinged "Wonderin' (with Relient K's Matt Thiessen), the playful stomper "Loud n Clear" (the first full TruDog song) and the neo-soul glow of "Changed Forever" (accompanied by Nirva Ready). All the while, Mac's message remains boldly evangelistic with a street savvy undercurrent, encouraging both believers and seekers alike to make the most of this life, while never forsaking those in need.
Check out the Toby Mac music videos page at Godtube.com!

© 2010 CCMmagazine.com. All rights reserved. Used with permission.

**This review first published on February 25, 2010.