What Do You Want to be When You Grow Up?

May 1, 2008
1. What would be the perfect job title for your current position?
2. How would you title the perfect position?
I resist using the Department of Labor's "Dictionary of Occupational Titles" for mature adults looking for new careers. Any categorization of a person's skills may overlook unique personal characteristics or interests. And also, I'm frequently amazed at some of the titles actually listed there. Here are just a few - I am not making any of these up. They are listed in the 660 pages of DOL job titles. You can check them out yourself in the new edition of the Occupational Outlook Handbook.
Check these out: Ear-Muff Assembler, Ecclesiastical-Art-Metal Worker, Drawstring Knotter, Dope Mixer, Doorshaker, Doll-Eye-Setter, Dinkey Operator, Brain Picker, Asparagus Sorter, Head Switcher, Toe Pounder, Umbrella Tipper, and of course "Easter Bunny."
These are more creative than I could make up. So, obviously, you can give yourself most any title. When required to list my position in my company, I write "Creative Thinker." What do you want to be when you grow up?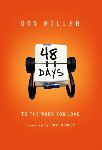 ---
Dan Miller is President of The Business Source, founder of "48 Days" and author of 48 Days To The Work You Love, 48 Days To Creative Income and the recently released No More Mondays. He is the growing authority for creating effective life plans that are achieved by integrating natural gifts, unique personality traits and one's own values and passions. His unique clarification of how God gifts us will introduce you to a new sense of freedom and fulfillment of your life's calling. For more information, visit http://www.48days.com/ .