from Day by Day with the Persecuted Church

The Lord saw how great man's wickedness on the earth had become, and that every inclination of the thoughts of his heart was only evil all the time. The Lord was grieved that he had made man on the earth, and his heart was filled with pain. So the Lord said, "I will wipe mankind, whom I have created, from the face of the earth - men and animals, and creatures that move along the ground, and birds of the air - for I am grieved that I have made them." But Noah found favor in the eyes of the Lord.
Enrique Palacio
The work of faith is to hear the voice of God in the midst of many different disturbing voices.
It is to obey the voice of God even if it seems contradictory to circumstances. It is to do the will of God even though you are doing it alone, with no other believers around you.
It is to persevere regardless of opposition and discouragement.
It is to accept the divine judgment without asking about its justice.
It is to proclaim the message of salvation even when nobody wants to listen.
It is ... total obedience despite the circumstances.
Can it be done?
Yes, because He who calls is faithful - He will do it.
Enrique Palacio, from Cuba, shares about his life with the Lord. Despite the battle, his meditations witness to victory and faith. He writes under a pseudonym.
Copyright [C] 1995 Open Doors International. Used by permission.
Click here to sign up for a free monthly newsletter from Open Doors about persecuted Christians.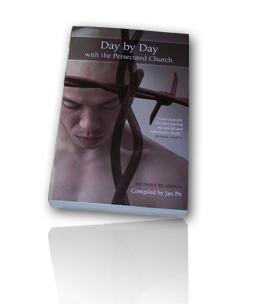 Day by Day with the Persecuted Church
compiled by Jan Pit with a forward by Brother Andrew (paperback, revised 2000)
Compelling wisdom from the pen of actual believers living amidst persecution, you'll be connected to the suffering, courage, and depth of life that exists in the harshest places in the world. Each of these 365 thought-provoking devotions will deepen your understanding of Christian persecution and provoke you to pray for our brothers and sisters with a new found depth.
To order your copy of this devotional, click