from Day by Day with the Persecuted Church

Anyone who loves their father or mother more than me is not worthy of me.
(Matthew 10:37)
Hristo Kulichev
Many times I was summoned by the police because they didn't allow me to preach the Gospel. When I was arrested the public prosecutor tried every possible way to exert influence on me. Satan used this man to tempt me in many different ways. The man offered me a better job. When I refused to accept it he began to remind me of the difficulties I would have to face in prison. When he realized that I was ready to suffer for God he said, "You seem to be willing to suffer for your faith, but do you realize it will have many consequences for your children also? Your imprisonment will affect all your family and they will suffer because of you. Your daughter won't be allowed to graduate from Sofia University, and your son will not be allowed to finish at the Technical College. And you will be the only reason for that. You will destroy their future." I know parents in my church who ceased coming to church for fear that they might hinder their children's career. I did not blame them. Fear is the strongest tool of Satan to tempt us. Fear for ourselves, fear for our loved ones. Fear, which we hid under the cover of love and care.
I turned to the prosecutor and said, "If I love my family more than God I am not worthy of Him. I am ready to sacrifice anything for my Savior and so disarm Satan."
When we love God with our whole heart, soul and mind, Satan will not be able to enter into our lives. God will enter and take care. He did. My children finished their education and both are now serving the Lord. God does not always take what we sacrifice, but He wants us to be ready to sacrifice everything for Him.
That gives complete and lasting victory.
Hristo Kulichev is from Bulgaria. He was imprisoned and exiled for almost four years for his faith in Jesus Christ. He now has a leading function in the Bulgarian Church and is also editor of the Evangelical newspaper Zornitza (Morning Star).
Copyright [C] 1995 Open Doors International. Used by permission.
Click here to sign up for a free monthly newsletter from Open Doors about persecuted Christians.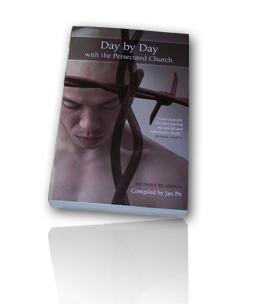 Day by Day with the Persecuted Church
compiled by Jan Pit with a forward by Brother Andrew (paperback, revised 2000)
Compelling wisdom from the pen of actual believers living amidst persecution, you'll be connected to the suffering, courage, and depth of life that exists in the harshest places in the world. Each of these 365 thought-provoking devotions will deepen your understanding of Christian persecution and provoke you to pray for our brothers and sisters with a new found depth.
To order your copy of this devotional, click