"Absence sharpens love, presence strengthens it." —Thomas Fuller
Have you ever wondered why we don't see God's active handiwork and presence like we do in the Old Testament? God revealed Himself in some pretty radical ways back in the good ol' days: disembodied hands writing on walls, pillars of fire leading the crowds, even having dinner with God on Mt. Sinai with Moses and the 70 elders of Israel. (No joke! Check out Exodus 24:9-11.)
With such radical signs of God's hand in the world in Scripture, it's easy to look around and wonder if He even works like that anymore. I'm convinced that He has never stopped working supernaturally across the globe, but I'm not just astounded by what He is doing "out there;" I'm astounded by something even more incredible: God is able to work "in us."
Now to him who is able to do immeasurably more than all we ask or imagine,according to his power that is at work within us, to him be glory in the church and in Christ Jesus throughout all generations, for ever and ever! Amen. —Ephesians 3:20-21
This is definitely one of the great mysteries of the faith—and yet one of the most practical and profound. God works through those of us who know Him and trust Him to bring honor and glory to Himself. How does He do that in all believers all of the time? I have no idea. But I'm sure glad that He does. Without God living through us, it wouldn't just be difficult to live the Christian life; it would be impossible.
Holy Spirit, thank You for Your indwelling power that is at work within me. As I go about my day, use me to do Your amazing works in the world. I believe You are able to do more than I can ask or imagine. Live through me to bring glory to You in Christ today, in any way You choose. Amen.
Listen to Pete, Jill & Stuart Briscoe on the Telling the Truth broadcast at OnePlace.com
SPECIAL OFFER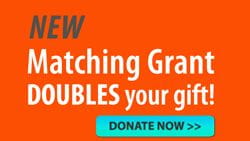 New Matching Grant doubles your gift!
Friends of Telling the Truth have offered a $110,000 Matching Grant to help reach our crucial financial year-end goal of $330,000. This means your online gift below is doubled up to the full amount of this special grant.
So please give to help reach the goal so more people can experience Life in Christ the way He intended!

In thanks, we'll send you a copy of Secure, a biblical and practical book to help you discover something every heart longs for – true security.
Request your copy when you give below – and thank you!