"God, make me the person my dog thinks I am." —Church sign
A number of years ago a family showed up at our church with a little boy who was autistic. Tanner loved to run around. We put him into one of the Sunday school rooms and he was bouncing around for a while, but things got quiet about halfway through the hour. Suddenly, Paul, the guy in charge of the class, realized Tanner had snuck out!!! He was mortified, but after brief mass panic, we found Tanner. The parents were concerned for Tanner's safety and the trouble they had caused—it looked like that could be the last
time they came to our congregation.
But our team thought about it and then told them, "We've got a volunteer who would like to minister to your boy one-on-one so you guys can come to church together. Would you be okay with that?" They reluctantly said "yes," and that next Sunday they were back and Tanner was running around our building with Paul running five feet behind him. Sunday after Sunday ever since, Paul has been running after Tanner. It was the start of something special. We've got tons of these precious children in our church now, all of them having someone caring for them each Sunday so their parents can worship together.
I think Jesus and Paul are going to have a great conversation about Tanner at the Bema Seat. When Paul stands face to face with Jesus for the first time, I think Jesus will be thankful that Paul allowed Him to love on that little kid so much, and then (get this) Paul will be rewarded for the things he allowed Christ to do through him.
That's all crazy talk in the world, but that's what the Bema Seat is all about, so here are four things that count on that day:
First, the B in BEMA stands for benevolence.
Then Jesus said to his host, "When you give a luncheon or dinner, do not invite your friends, your brothers or sisters, your relatives, or your rich neighbors; if you do, they may invite you back and so you will be repaid. But when you give a banquet, invite the poor, the crippled, the lame, the blind, and you will be blessed. Although they cannot repay you, you will be repaid at the resurrection of the righteous." —Luke 14:12-14
Benevolence is serving someone who can't serve you back. Because they cannot repay you, you will be repaid at the resurrection of the righteous. In that day, Jesus will reward you. It's a win-win deal: While He is working through you here on earth, you will be blessed. Then, when you see Jesus face to face you'll be blessed again for what He did. Pretty cool, I think.
Jesus commends those who love the needy, often in quiet ministries that no one sees. And that counts at the Bema Seat, because our world is full of Tanners.
Son of God, it can be tiring loving on someone who can't serve you back. Show me where I can pour Your love into others like that and give me the strength to do it consistently. Amen.
Listen to Pete, Jill & Stuart Briscoe on the Telling the Truth broadcast at OnePlace.com
SPECIAL OFFER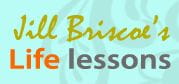 Learn from Jill Briscoe's greatest "Life Lessons"
In Jill Briscoe's booklet and CD message,
Life Lessons
, she shares with you what she's learned in the ups and downs of life and ministry.
Life Lessons
offers you practical advice and helps you learn to better hear God's voice through your own ups and downs!
Both resources are her personal compilation of over 70 years of insights on relationships,
marriage
, ministry, and
faith
. And they're our "thank you" gifts for your donation to
Telling the Truth
this month.
So please give below. And thank you for helping us share with you and others worldwide where real Life is found!