ISN'T THERE ANYONE WHO KNOWS WHAT CHRISTMAS IS ALL ABOUT?!!! – Charlie Brown
"Aren't we forgetting the true meaning of Christmas? You know... the birth of Santa!" – Bart Simpson
I had a young lady in my office recently. In the course of our conversation, I came to the conclusion that she hadn't come to grips with God's love for her. So I looked her in the eyes as I thought of one of the foundational verses in the Bible:
"For God so loved the world that he gave his one and only Son, that whoever believes in him shall not perish but have eternal life." – John 3:16
"Let me tell you something, are you aware of this simple fact, that God couldn't possibly love you more than He does right now?" I asked. "That He loves you as much as a perfect God can? That He loves you perfectly, and there's nothing you can do to make Him love you more? There's nothing you can do to earn His approval; you have it. Are you aware of that? Do you realize how deeply God loves you?"
Her eyes filled with tears, and she bowed her head and started to weep. She didn't stop. She just kept crying. Our conversation ended with her thanking me and walking out, still crying. I called a few days later, just to follow up, to make sure she was okay. She said, "Pete, I cried for three days! It just finally hit me that God loves me! I finally got it! All these years, I've been sitting in church and never allowed myself to realize how deeply and passionately He loves me!"
Why Christmas? Because God loves you so much that He gave His one and only Son, sending Him into the world as a poor baby so that He could show you how to live – no, more than that – that He might be your life. He lived perfectly, died a grizzly death, shed His blood so that your sins might be removed, so that you will not perish, but spend forever with Him.
Do you get it? Have you received this gift?
Holy Spirit, today and through this season, give me the ability and the willingness to realize how deeply and passionately You love me. Amen.
Listen to Pete, Jill & Stuart Briscoe on the Telling the Truth broadcast at OnePlace.com
SPECIAL OFFER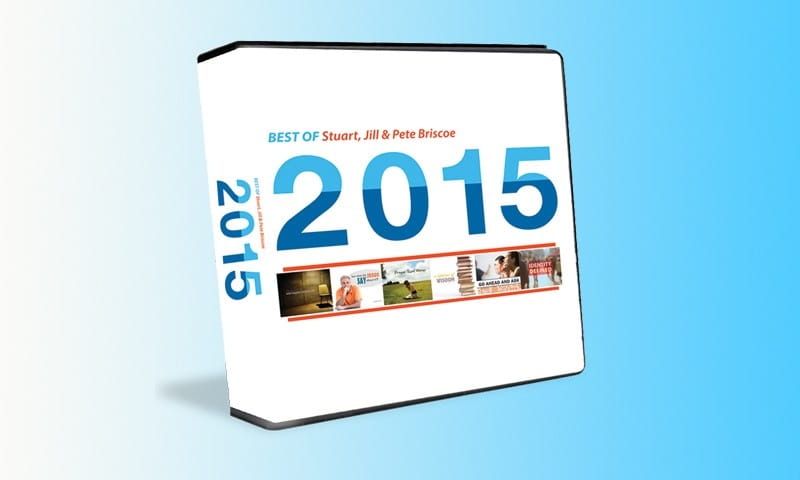 Pete, Stuart and Jill Briscoe's 'Best of 2015' CD set
The Best of 2015 is a collection of the 6 most requested messages of 2015 from Pete, Stuart, and Jill Briscoe, and it speaks into difficult topics that challenge many believers. Start the new year with renewed clarity and confidence with this eye-opening CD set!