Creative Financing
A business owner called for counsel. He had built his machine tooling business without debt, but had recently landed a contract with a major corporation.
The contract was for $500,000, but to complete it, he needed $250,000 for equipment. He felt he had no option but to borrow the money.
He and I discussed options, and prayed together. Then I urged him to ask his customer for a 50% deposit. He was confident they would refuse.
Days later, he called me elated. "They wrote me a check for $250,000!" he shouted.
Psalm 18:30 teaches, "As for God, his way is perfect; the word of the LORD is flawless. He is a shield for all who take refuge in him."
Never assume debt is the only answer! God is the answer.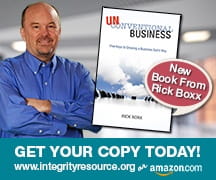 Learn more about Rick Boxx and Integrity Resource Center