An Interview with Kay Warren on Christians & AIDS
Janet Chismar

Senior Editor, News & Culture

2005

17 Nov

COMMENTS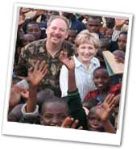 The HIV/AIDS pandemic continues to outpace the global response. In just two decades, more than 30 million people have died worldwide and over 40 million people are living with HIV/AIDS today. No region of the world has been spared from this tragedy.Most likely, there are people affected by HIV in your community.


Rick & Kay Warren are convinced that God and the voices of those suffering with HIV/AIDS are calling the church to take action. Find out how God has changed the hearts of two of America's most influential pastors, the hearts of their wives, and the direction of Saddleback Church.
Whether HIV/AIDS is new to you or you've heard the voices already, this life-changing event will inform, challenge, and equip your church to respond to the greatest crisis of our time. Designed uniquely for senior pastors and others in key leadership roles, this conference will offer startling information, personal testimonies, and practical how-to steps from world-renowned experts. Join us and other pastors as we address how the church can respond to the voices of HIV/AIDS.


Crosswalk: Can you trace for us how you developed a passion for the issue of HIV/AIDS?
Warren: Well, the day began very innocently. I had no idea that God was going to rock my world on that day. I got up and read a magazine article ... MORE to COME HERE