"True Valor" Garners Award for Uncommon Heroes Series
Multnomah Publishers

2003

26 Jun

COMMENTS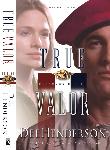 Multnomah Publishers fiction author Dee Henderson has won the 2003 Virginia Romance Writer's of America's Holt Medallion award for Long Inspirational.
"True Valor" is the second book in Henderson's Uncommon Heroes series, and spent five consecutive months on the CBA Fiction Bestseller list in 2002.
Dee Henderson is the bestselling author of the O'Malley series of romantic suspense novels, and the Uncommon Heroes series of military romance novels. Three of her books have been nominated for awards in 2003.
"True Honor" (book three in the Uncommon Heroes series) is a finalist for the 2003 ECPA Gold Medallion Fiction Award, and both "True Honor" and "The Healer" are finalists for the 2003 Christy Award for Romance. Three of her titles were nominated for the Holt Medallion, with "True Valor" as the chosen winner.  
"True Valor" is a suspenseful romantic thriller. In "True Valor," Major Bruce "Striker" Stanton, Air Force Pararescue Jumper, spends his life rescuing pilots downed behind enemy lines. Lieutenant Grace "Gracie" Yates spends hers flying an F/A-18 Hornet for the Navy. Separated by overseas deployment orders, they exchanged love letters. But when Gracie is shot down behind enemy lines, Bruce has one mission: get Gracie out alive.
Courtesy of Multnomah Publishers